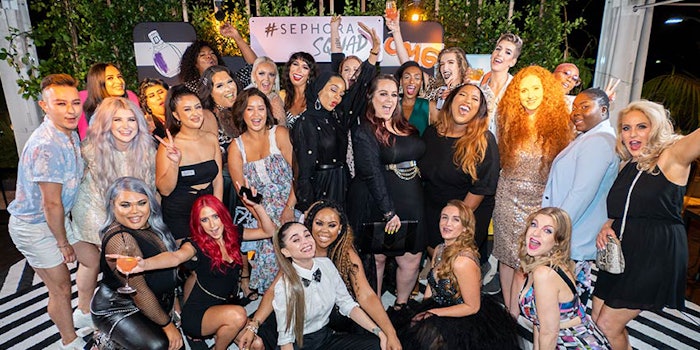 Sephora has announced the launch of the second year of #SephoraSquad, and has opened applications to beauty lovers and Sephora Employees across the United States and Canada.
Previously: 13 Female Founders Will Participate in Sephora Accelerate 2020 Cohort
Aiming to create a different kind of beauty-influencer community, the program celebrates the authentic and inspiring voices in the digital beauty space–regardless of follower size.
Related: #SquadGoals—Sephora Announces its Inaugural #SephoraSquad
The #SephoraSquad offers influencers the opportunity to partner with Sephora, and support and amplify different retailer initiatives throughout the year.
In addition to creating content, the 2020 #SephoraSquad will also have the opportunity to foster new peer and professional relationships, attend unique events, work with different brand partners and get exposure on Sephora's channels.
Similar to last year, the 2020 #SephoraSquad applications are open to social content creators as well as Sephora's passionate employees. The program provides employees with the tools, resources and training to help fuel their growth as influencers with content opportunities, educational sessions and interactive workshops.
Sephora welcomes beauty lovers across all categories–makeup, skin care and hair–to apply.
Applications will be accepted from March 9 through March 30, 2020, and semifinalists will be announced on April 6, 2020. On May 6 at 9:00 a.m. Eastern, Sephora will announce the finalists who are chosen for the 2020 #SephoraSquad.
To apply, applicants can go to www.sephorasquad.com and connect their Instagram account, fill out the application, and ask their followers for testimonials to endorse why they should be a part of the #SephoraSquad. Applicants must be at least 18.
Sephora has extended its partnership with a select group of 2019 #SephoraSquad members, who will join a diverse panel of judges in selecting the 2020 finalists.