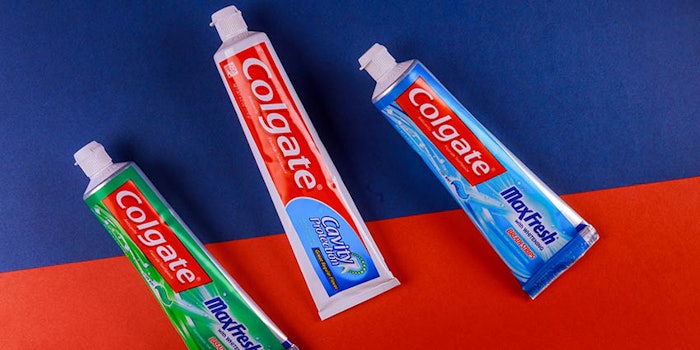 Colgate-Palmolive Company has reported its Q1 2020 results which revealed positive growth⁠—5.5% year-over-year⁠—despite the COVID-19 pandemic and its economical impact. Q1 2020 net sales totalled $4.1 billion, up from $3.9 billion in Q1 2019. Organic sales increased 7.5% year-over-year.
Previously: Colgate-Palmolive Elects President and CEO

By division
North America (23% of company sales)
Latin America (22% of company sales)
Europe (16% of company sales)
Asia Pacific (15% of company sales)
Africa/Eurasia (6% of company sales)
Hill's Pet Nutrition (18% of company sales)
Colgate-Palmolive also announced it is withdrawing its 2020 financial guidance due to the uncertainty surrounding the business impacts from COVID-19 and related macroeconomic volatility.
Noel Wallace, Chairman, president and CEO of Colgate-Palmolive Company, commented:
The worldwide COVID-19 pandemic has required all of us to rethink how we interact in the world, how we work and how we live. Our responsibility to our employees, our customers, our consumers, our communities and our shareholders has never been greater. We take these responsibilities very seriously and our teams around the world are rising strongly to the challenges before us.
First and foremost, we are working to ensure all of our facilities are following the necessary protocols to maintain the health and safety of Colgate people. Colgate people everywhere are leveraging our available technologies to maximize our connectivity and productivity and are working hard to meet increased demand, particularly for health and hygiene products. The strong first quarter results reflect the dedication, creativity and courage of our teams on the ground and just how agile we have become.
We are proud to be supporting the World Health Organization's #SafeHands effort to help stop the spread of the COVID-19 virus with our commitment to produce and donate 25 million soap bars in the regions facing acute needs. Separately, we are donating $20 million worth of health and hygiene products to community-based organizations in the U.S. and abroad.
Looking ahead, we expect a mid-single digit negative impact on net sales for the year from foreign exchange, based on current spot rates. Furthermore, we expect some of the additional volume from the first quarter to come out of future quarters, as consumers work through pantry inventory in certain categories. We also expect government actions and consumer behavior related to COVID-19 and economic uncertainty to reduce category growth in many markets. It is the uncertainty related to these factors that has led us to temporarily suspend our financial guidance for 2020. As we proceed through this pandemic we plan to reinstate our guidance when we have the visibility to forecast our results with more confidence.
Colgate has a long history of managing through difficult times. I am confident that our financial strength, prudent operating discipline and the resilience of Colgate people everywhere will help us to emerge from this crisis even stronger.