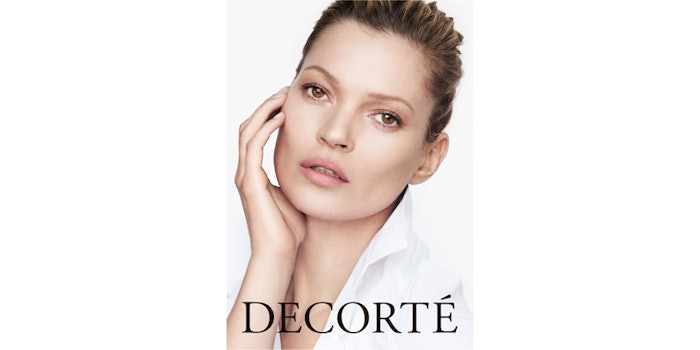 Kosé Corporation's Cosme Decorté is reportedly "preparing for a facelift" as the Asian beauty brand enters its 45th year.
According to Kosé Corporation, the brand will henceforth be known simply as Decorté. In addition, the brand will concentrate on global expansion.
As part of the rebrand, Decorté is partnering with Kate Moss and Mario Testino. A global ad campaign, the brand's largest to date, will hit September books and kick off a multi-year contract with Moss. The model will also appear in a pre-release, behind-the-scenes video in August.
The initial campaign will highlight the moisture liposome franchise, which is reportedly the best-selling prestige face serum in Japan, as well as the new liposome treatment liquid.
Kosé president and CEO, Kazutoshi Kobayashi stated, "During the Decorté brand's long history, we have established a strong bond and trust with women of Asia based on our innovative and superior formulations. As Decorté starts a new chapter, we are pleased to work with the globally recognized and revered Kate Moss. It's the perfect pairing."