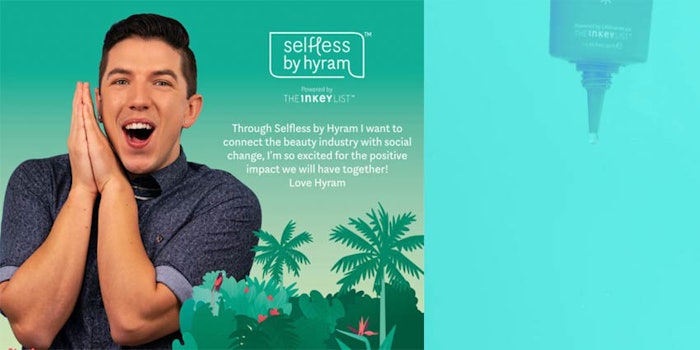 Previously: Selfless by Hyram, a skin care brand from Tik Tok influencer Hyram Yarbro and The Inkey List's Colette Laxton and Mark Curry, will launch globally at Sephora on June 24. The range will comprise five SKUs, which will be revealed between June 3 and June 19.
Update (June 19): The Selfless by Hyram collection includes:
Mandelic Acid & Rice Bran Gentle Exfoliating Serum, formulated with 3% mandelic acid, 2.5% gluconolactone, 0.5% phytic acid and 0.5% salicylic acid. 

Centella & Green Tea Hydrating Gel Cleanser, formulated with 3% Centella asiatica complex, 5% green tea complex and 14.5% glycerin.

Niacinamide & Maracujá Daily Barrier Support Moisturizer, formulated with 5% niacinamide, 1% maracujá seed oil, 0.19% madecassoside and 1% murumu seed butter.

Salicylic Acid & Sea Kelp Pore Clearing and Oil Control Serum, formulated with 0.5% salicylic acid, 5% niacinamide, 2% succinic acid and 0.99% sea kelp.

Retinol & Rainbow Algae Repair Serum, formulated with 2% encapsulated retinol complex (0.2% retinol), 1.5% rainbow algae complex (0.15% rainbow algae extract), 2% tranexamic acid and 4% squalane.
In an Instagram post, Yarbro noted: "I love skin care because of how it empowers people with self-love and self-esteem, but I wanted to create an opportunity for us to be more self-less, by connecting our purchasing power to a greater cause. When you choose Selfless by Hyram, YOU are having a direct and measurable impact on two of the most pressing issues facing our planet. I believe in you, and in the collective change we can make together, creating impact that will last for generations!"
Yarbro was recently named by LookFantastic as the most influential Tik Tok skinfluencer, a role that exploded during the pandemic-driven social media boom.
The brand features The Selfless Standard, which focuses on transparent, sustainable sourcing; climate consciousness; and a reduction in the impact of packaging.
To illustrate, Selfless' tubes are mono-material sugarcane, while its cartons comprise 100% recyclable FSC sources, including 91% recycled material. It also uses vegetable-based inks.
It is also supporting sustainable initiatives. In an Instagram post, the brand stated:  
Selfless by Hyram exists so that YOU can help to create a positive and measurable impact on two of the most pressing issues to our planet, climate change and lack of access to clean drinking water.
Through partnerships with @rainforesttrust and @thirstproject together we can create a lasting impact and help to change the world