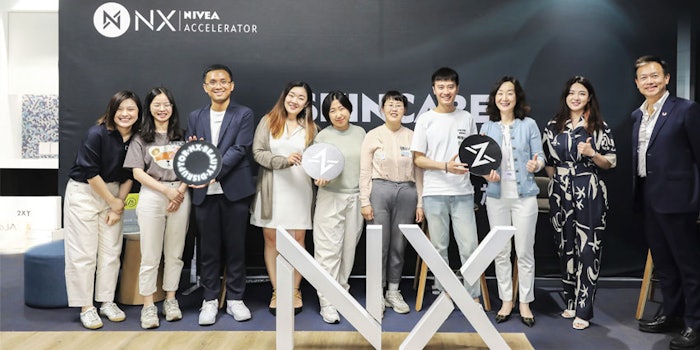 Beiersdorf has signed a partnership agreement with China's largest B2C platform, Tmall from the Alibaba Group, to co-incubate Chinese startups. Tmall also recently established a rapid fragrance development partnership for the Chinese market with Givaudan.
Beiersdorf is expanding its NX NIVEA Accelerator to Shanghai and has now selected the top five startups for the first batch. The accelerator program, which originally launched in South Korea, supports and develops indie brands and beauty tech startups which share Beiersdorf's ambition to shape, create and deliver the future of skin care to consumers.
For the NX program in Shanghai, Beiersdorf is focusing on collaborating with beauty startups from the areas of indie brands, beauty technology, personalization, and platform business models with a high degree of digitalization.
Beiersdorf is open to global indie brands in the skin care sector that want to enter the Chinese market and build their own local teams in Shanghai.
The selected beauty startups will benefit for six months from the company's global network of over 160 affiliates, more than 20,000 employees, and nearly 140 years of leading skin care expertise.
In addition, Beiersdorf's newly opened Innovation Center in Shanghai will support the startups in the areas of research and development, marketing, and office space. Furthermore, the startups will receive exclusive access to the state-of-the-art laboratories, as well as intensive support and training.
The following startups have been chosen to form the first batch:
Lake Lab
Basic Lab
2XY
Turflan
Moja
Shirley Xue, general manager of Beiersdorf Northeast Asia, said: "We believe the expansion will create synergies between Beiersdorf and disruptive beauty startups in China thus further driving our innovation power in the region."
Zhengrong Liu, member of the executive board of Beiersdorf for greater China/Northeast Asia, said: "Our goal is to become the leading beauty accelerator in Asia by 2022. By teaming up with local innovators, we accelerate the process to identify and develop visionary beauty concepts, unlock growth potentials and win with skin care in line with Beiersdorf's business strategy C.A.R.E.+."