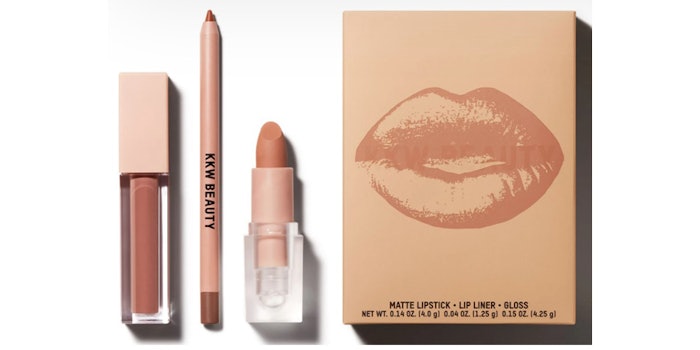 Update at foot of article: KKW Beauty has announced it is undergoing a complete rebrand as the website will be shutting down on August 1, 2021 at midnight "so that we can come back to you under a completely new brand with new formulas that are more modern, innovative and packaged in an elevated and sustainable look," Kim Kardashian wrote on the brand's Instagram. 
In doing so, the current product line is on sale for 20-75% off sitewide until supplies last. 
The move follows the celebrity's announced divorce from Kanye West, as well as the rebranding of sister Kylie Jenner's Kylie Cosmetics, also at Coty.
"I'm excited to continue to develop and expand my product range and for you to finally be able to experience it the way that I have always envisioned," Kardashian continued on the post. "In addition, my team is hard at work to improve the customer shopping experience where you will be able to purchase my beauty and cosmetic offerings in all categories from one single website."
UPDATE (July 19, 2021): Per a TMZ report, Kardashian has filed a trademark for "SKKN" for hair care, makeup, skin care, nails and other beauty products. She has also secured SKKN.com and @SKKN social media names.