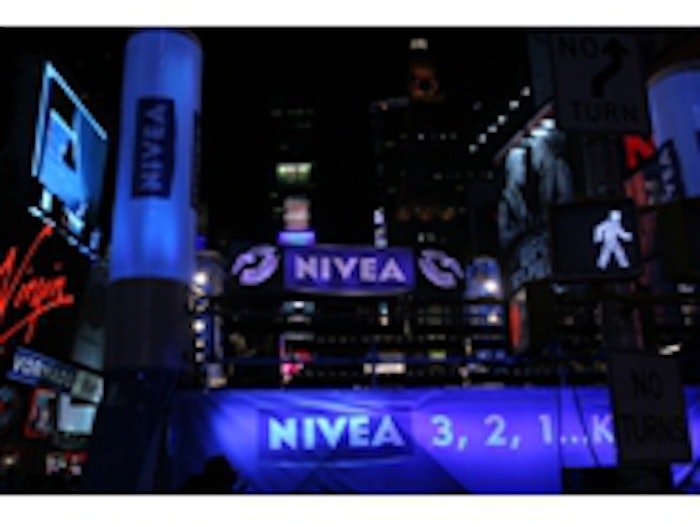 As the culmination of the launch for Nivea Lip Care in the U.S. marketplace, the Beiersdorf brand acted as the official sponsor of the New Year's Eve celebration in New York's Times Square—attended by an estimated one million revelers.
"Having already overachieved our year one target, we are poised to reach a strong market position in 2009. And with the massive emotional connection made with millions of people in Times Square and across the U.S. during the New Year's Eve celebration, we are poised to reach consumers' hearts as well" said Nicolas Maurer, vice president, marketing, Beiersdorf Inc.
The brand's "Kiss and Be Kissed Platform" served as the platform for the master of ceremony, while the neighboring Nivea Countdown Stage featured musical performances—including a performance by the band Parachute, which has written a song to be featured in the campaign for Nivea's Body Smooth Sensation product. Standing behind the Nivea countdown clock, New York City Mayor Bloomberg, Senator Hillary Clinton and former President Bill Clinton pressed the button for the famous Time Square ball drop at the stroke of midnight. In addition to the branded areas, the brand provided Nivea hats and blue and silver Nivea balloons.