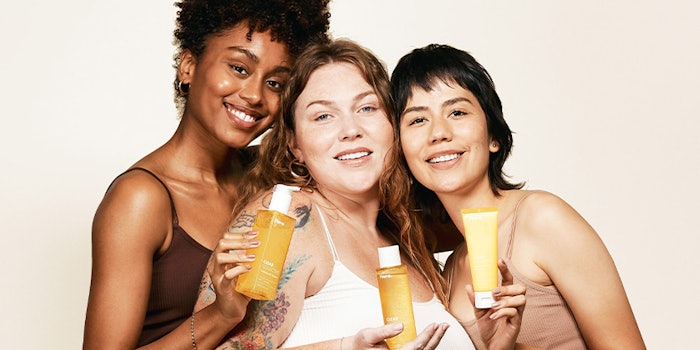 Hero Cosmetics, Inc., a next-generation functional skin care brand, has announced that it has received a significant minority growth investment from Aria Growth Partners. Hero also announced the launch of Clear Collective, its line of skin care products.
Related: Hims & Hers Closes Business Combination with Oaktree
The investment is Hero's first outside capital since launching and will enable the company to continue its growth, product innovation and expand distribution of its skin care products such as the Mighty Match. 

Along with the investment, Hero has also partnered with Target where it will launch its Clear Collective, a three-step blemish prevention system targeting the root causes of acne and blemishes. 
The Clear Collective collection is fragrance-free and includes:
Balancing Capsule Toner, an alcohol-free toner containing a duo of mattifying zinc PCA and pore-refining witch hazel, while eight levels of hyaluronic acid and infused green tea water help hydrate and sooth the skin. 

Clarifying Prebiotic Moisturizer contains a prebiotic sugar complex said to balance the skin's microbiome and the added sage extract is said to clarify pores.

Exfoliating Jelly Cleanser is created with yuzu extract to smooth skin and vitamin C to brighten as well as pineapple enzyme to dissolve dead skin buildup, mandelic acid to improve the look of blemishes and glycolic acid which helps unclog pores.
Ju Rhyu, co-founder and CEO of Hero Cosmetics, said, "Fortunately, we have been profitable since year one and were in a position to choose a partner for their strategic value-add to help take the company to the next level. That's exactly what we found with Aria Growth Partners, and we are thrilled to work with Trevor and Jackie to turn Hero into the number one functional skin care brand."
Trevor Nelson, a partner at Aria Growth Partners, said, "Ju, Dwight and Andy are tremendous entrepreneurs, and it shows in the quality of the brand and business they've created and the extraordinary growth they've achieved. We are thrilled to be their partners."

Jackie Dunklau, a principal at Aria, added, "We are excited to help Hero continue to solve long-standing skin concerns with innovative and disruptive products such as Mighty Patch and Rescue Balm."