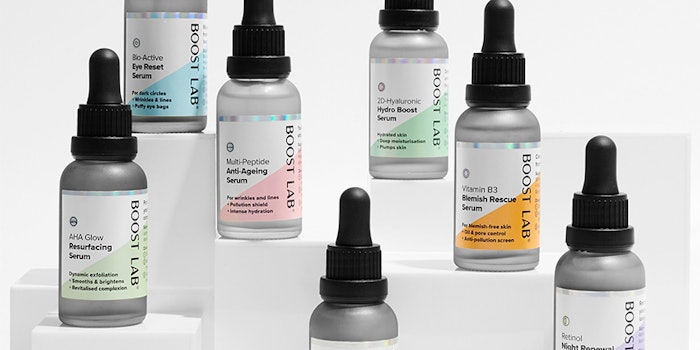 Boost Lab has announced its e-commerce and distribution partnership with online beauty destination, Adore Beauty. 
Related: Ace of Air's Buy Product, Borrow Package Model
Through this partnership, consumers can self-select and purchase Boost's range of serums directly from Adore. This allows Boost to reach a wider market and adds to Adore's skin care portfolio. 
Boost Lab has launched seven serums on Adore Beauty including:
Vitamin B3 Blemish Rescue Serum which uses niacinamide and zinc PCA to control oil and pores.

Vitamin C Brightening Serum which combines vitamins C, E and B3 for a burst of energy to the skin.

Multi-Peptide Anti-Aging Serum which combines peptides and hydrators to tackle the look of fine lines and wrinkles.

2D-Hyaluronic Hydro Boost Serum infused with pro-vitamin B5 to moisturize and plump the look of skin.

AHA Glow Resurfacing Serum which exfoliates and hydrates at the same time.

Retinol Night Renewal Serum which includes both retinol and Granactive retinoid, to reduce the look of fine lines and wrinkles as well as hydrate and brighten.

Bio-Active Eye Reset Serum which uses peptides, hyaluronic acid and other ingredients to target the look of dark circles and puffy eyes, as well as wrinkles and fine lines.
Danielle Chee, senior category manager skin care and wellness, Adore Beauty, said, "We are pleased to have Boost Labs join our esteemed family of brands to service our growing database of discerning beauty customers. In recent years, a spotlight has been shone on Australian beauty brands for the unique way in which they uphold quality formulations, function and performance, wrapped up in fun, approachable and attainable ways. Boost Lab maintains this calibre and speaks very much to our core skin care customer that is more ingredients-focused and active skin care-led."
Boost Lab founder Craig Schweighoffer said, "We've been overwhelmed with the support from the beauty community in Boost Lab's infancy, and are looking forward to partnering with Adore Beauty to help make shopping for targeted skincare solutions simpler. Consumer habits changed in 2020 and we saw the beauty skin care category soar,with more consumers embracing at-home routines. We're thrilled that after a few months on market we're now able to reach even more Australians as well as the world with skin care that is both accessible and affordable via Adore Beauty."