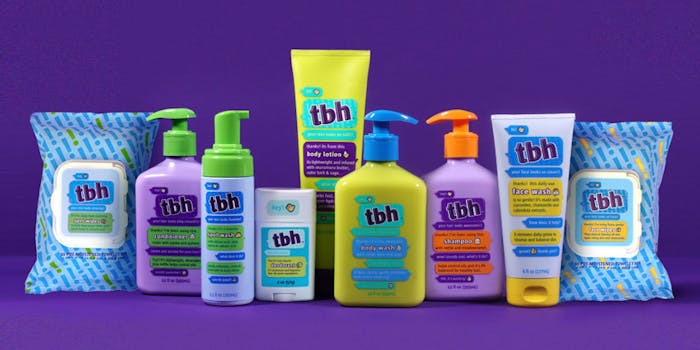 TBH Kids, a complete line of hair, skin and body care created for tweens, has announced a 300% growth in 2020.
Related: [interview] Anthem Reports Almost 500% Growth in 2020
Sales are predicted to reach seven figures in 2021. Social engagement increased 162% year-over-year and the brand recorded more than 8 million online impressions. 
The DTC brand, from the makers of Fairy Tales Hair Care, launched 24 months ago with products formulated with natural ingredients to help kids ease into puberty.
CEO Risa Barash, saidm "As we created each product we knew from our longstanding experience in the space, what today's parents want in personal care products for their kids. We knew what needed to be in our line and perhaps more importantly, what needed to be out. TBH Kids uses natural ingredients such as quinoa, aloe, murumuru butter, nettle, willow bark and more. We are also SLS, soy, dairy, gluten and nut free. Actives such as salicylic acid are cut in half compared to adult pimple products so younger kids can have a gentler, yet effective version. TBH Shampoo and Conditioner contain nettle and willow bark to gently absorb the oil that puberty brings to tween hair. Listening to the Fairy Tales Hair Care Moms as their kids grew up and had different needs allowed us to create once again products that parents don't just want but need. It is this theory that has propelled TBH Kids to exceed 300% growth in one year."