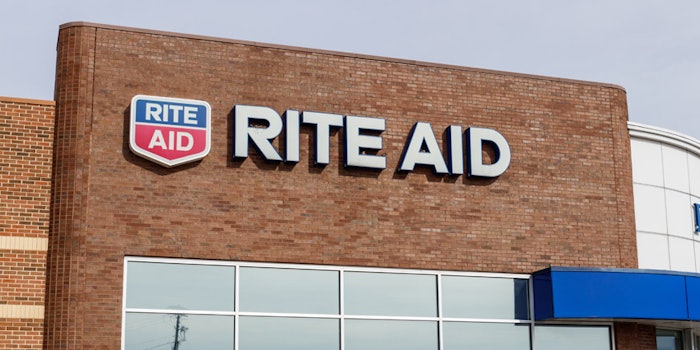 Rite Aid has announced its expanded commitments to reduce toxic chemicals in the products it sells, doubling down on its efforts to ensure clean, safe product ingredients as part of the company's RxEvolution strategy.
Related: Estée Lauder Announces Equity and Engagement Center of Excellence
Following an evaluation of current practices, Rite Aid has identified several new areas for improvement in its revised chemical policy, committing to:
Requiring own brand suppliers to certify that all packaging and packaging components sold to Rite Aid comply with the requirements of federal and state packaging laws and the company's corporate restricted list for food-contact packaging materials.

Suppliers will also be required to certify that restricted chemicals were not intentionally added to their packaging, and do not exceed restriction limits laid out in the restricted substance list. 

Offering increased product ingredient transparency by requiring suppliers to provide additional disclosure surrounding generic ingredients, like "fragrance," by December 2023.

Enhancing consumer transparency efforts around desired product attributes, such as organic, non-GMO, cruelty-free, and paraben free, making it easier for customers to identify cleaner products.
In 2016, Rite Aid executed a formal chemical management policy and committed to removing eight chemicals of concern from its own brand formulated products by the end of 2020. Rite Aid has reached 98% compliance with its commitment and is actively working with supplier partners to reformulate or transition remaining items to ensure total compliance.
Rite Aid also continues to screen all formulated products against its full restricted substance list (RSL) that contains 69 chemicals of concern.
Rite Aid has continued its work with the Mind the Store Campaign that works with hundreds of organizations and businesses and encourages retailers to replace chemicals of concern with safer alternatives.
Mike Schade, Mind the Store campaign director, said, "We are very pleased to see that Rite Aid is taking concrete actions to safeguard its customers and communities from toxic chemicals. Today's announcement shows excellent progress; setting higher bars on chemical management is a growing sustainability trend among retailers. In our work with Rite Aid over the last year, we have been impressed by the significant progress made despite the global pandemic."
Erik Keptner, chief marketing and merchandising officer, Rite Aid, said, "Rite Aid's RxEvolution is about promoting whole health, and we're dedicated to ensuring that our merchandise is aligned to that goal. We're proud of our work to offer cleaner, more sustainable products. Our expanded commitment is another step forward in our journey to offer our customers product choices they can feel great about."