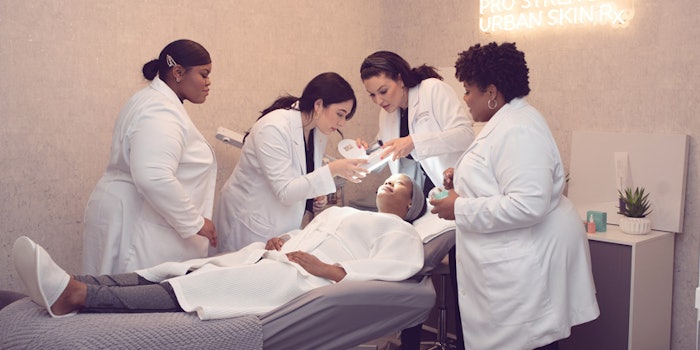 Urban Skin Rx
Urban Skin Rx has announced The Melanin Experts, an initiative that will provide skin care education, virtual consultations and a network of services, as well as advice on how to tackle skin care concerns most seen in skin of color.
Related: Winky Lux Partners with Replenysh for Recycling Program
The initiative is led by Urban Skin Rx founder and CEO Rachel Roff and a team of in-house licensed aestheticians who specialize in skin of color.
Joining Roff as part of the Melanin Expert Network is Alexis Stephens, M.D., D.O., FAOCD, FAAD. As a Melanin Expert, she will serve as an ambassador for the program.
Urban Skin Rx is also collaborating with The Academy of Goal Achievers to award scholarships for aestheticians at The Academy of Nails and Aesthetics. The brand is also working with the Skin of Color Society for an upcoming collaboration that will impact the melanin community and those who focus on skin of color. These initiatives will serve as the foundation for change within the beauty industry by funding opportunities for future Melanin Experts. 
Roff said, "When I began my career as an aesthetician, I noticed a lack of education, services and products that addressed common concerns seen in deeper skin tones. I founded Urban Skin Rx in 2010 to provide solutions to specific issues for women and men with melanin-rich skin. As part, I've dedicated the last 15 years to overcoming disparities in clinical skincare for diverse skin tones and am proud to unveil an extension to these efforts with The Melanin Expert Network, a free online service that connects consumers with licensed aestheticians with extensive experience in the industry, allowing glowgetters to easily address their unique skin concerns without leaving their homes."
Stephens said, "In an industry where less than 3% of dermatologists in the United States are Black, I'm proud to be part of this initiative and represent my community. I fully support and believe in the Urban Skin Rx mission towards creating an ethical, unprejudiced skincare industry and I look forward to providing accessible education and advocating for BIPOC men and women through various resources during this partnership."