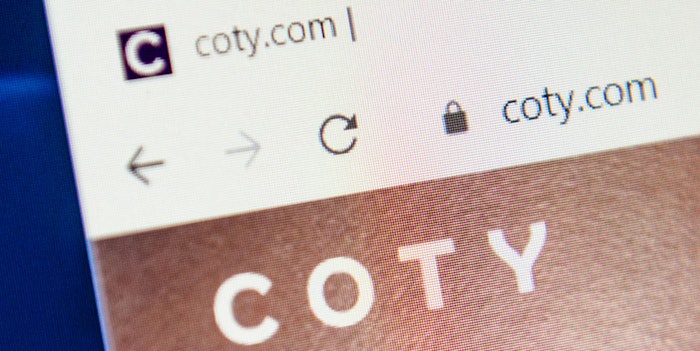 Coty has announced its long-term strategy for sustainable growth that builds upon actions taken by the company to shift to sustainable and profitable growth, with greater cost controls and a more competitive market position.
Previously: Coty Q2 2021 Results
Coty has outlined six strategic priorities for sustainable growth:
Stabilization of consumer beauty makeup brands and mass fragrances
Acceleration of luxury fragrances and establishing Coty as a key player in prestige makeup
Building a skin care portfolio across prestige and mass divisions
Enhancing e-commerce and direct-to-consumer (DTC) capabilities
Expanding in China through prestige and select consumer beauty brands
Establishing Coty as an industry leader in sustainability
Consumer Beauty Business
Coty plans to strengthen the performance of its consumer beauty business by "rejuvenating and repositioning several key brands, allowing it to capture new growth opportunities." This involves plans to bolster CoverGirl, Sally Hansen, Rimmel, Max Factor and adidas through a focus on brand equity, key trends, clear consumer targets, in-store execution, product innovation and ensuring that each brand has a distinctive purpose.
In addition, Coty expects to strengthen CoverGirl's appeal to a broader U.S. consumer base by building on the brand's heritage of pioneering key beauty trends—including clean makeup and makeup/skincare hybrid products—supported by new launches and innovative marketing.
To support this strategy, Coty will be unveiling a major new marketing campaign for the top-performing CoverGirl Simply Ageless range.
Skin Care Portfolio
Coty intends to build its skin care portfolio across mass and prestige by capitalizing on key trends like regenerative medicine and creating products that are truly green, clean and sustainable. 
The company sees an opportunity to extend several of its designer brands and consumer beauty brands into the skin care portfolio.
Prestige and China Growth
By fiscal year 2025, Coty's goals are:
skin care to increase from approximately 6% to more than 10% of the revenue mix;
prestige cosmetics to increase from approximately 3% to a high-single digit percent of the revenue mix;
and China's contribution to triple to more than 10% of the revenue mix.
The company expects to bring more iconic female fragrances to market and expand its presence in artisanal fragrances.
In addition, the performance of its brands in China and its growing footprint in emerging travel retail destinations (like Hainan) reinforce Coty's confidence in its ability to capture market share and growth in the region.
E-commerce, Luxury and Mass
Coty plans to accelerate its e-commerce and direct-to-consumer (DTC) growth through a transformed approach to its digital strategy. 
Sustainability
To integrate sustainability within its product development process, Coty has announced its "Beauty That Lasts" Index, a measure that will see Coty's R&D division integrate sustainability criteria into the packaging and formula development of every new product.
Q3 2021 Earnings
Coty will announce its Q3 2021 results on May 10, 2021. The company is said to remain on track to end the fiscal year with net revenues between $4.5 billion and $4.6 billion. 
Sue Y. Nabi, CEO of Coty Inc., said: "Coty is ideally positioned to accelerate sales and profit through our six strategic priorities, that will reposition and expand our portfolio to meet the great opportunities ahead. We anticipate a rebound in demand for beauty products as pandemic restrictions ease, led by luxury beauty, clean beauty, China and skin care. Our performance will be supported by a purpose-led and highly focused portfolio: anchored in luxury with highly desirable brands and delivered through innovative omnichannel activations. Across our business, we are harnessing sustainability as the ultimate driver of innovation—enabling our brands to capitalize on growing consumer demand for outstanding beauty products that are clean and green. We intend to use this strategy to build Coty into a truly global beauty powerhouse."