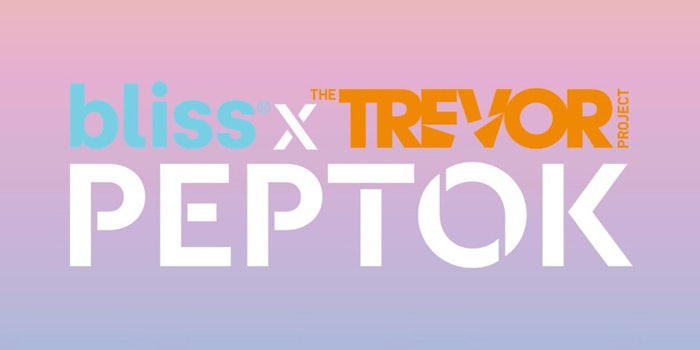 Bliss
Bliss is partnering again with The Trevor Project to cultivate a candid dialogue about mental health and create positive, affirming spaces on social media, in recognition of Mental Health Awareness Month.
Related: Rimmel London Names Adwoa Aboah Global Brand Activist
Bliss and The Trevor Project's Tik Tok launched a campaign called PepTok, which taps influencers to rally their communities to collectively infiltrate and brighten comment sections with "Brighter Words" or uplifting messages.
For every positive comment posted tagging Bliss, the brand will be donating $1 to The Trevor Project up to $100,000.
Bliss and The Trevor Project also hosted a Tik Tok Live in an effort to kick off an open and honest conversation about mental health, social media and its impact on that, plus share tactics to avoid cyberbullying. Hyram Yarbro (Skincare by Hyram) hosted the event with Manny MUA joining as a guest. 
Tina Pozzi, chief brand officer at Bliss, said, "We are thrilled to continue our partnership with The Trevor Project to help fund their life-saving resources for the LGBTQ community. As a brand, we have always stood for unapologetic happiness, and through this campaign we are able to bring these values to life by shedding a light on the importance of openly discussing mental health and using social media to create more supportive spaces."
Shira Kogan, director of corporate development at The Trevor Project, said, "We know that LGBTQ youth who experience high levels of social support from family and friends are significantly less likely to attempt suicide compared to those with lower levels of social support–and social media is one area that can provide a strong foundation of support, so long as it's positive. Every dollar from Bliss' unique campaign will help support The Trevor Project's free, 24/7 crisis services, as well as TrevorSpace, the world's largest safe space social networking site for LGBTQ young people."