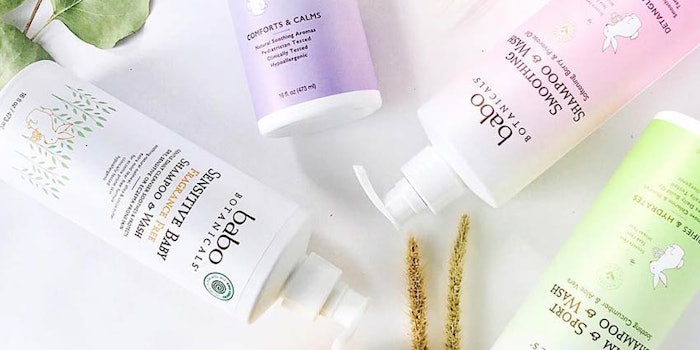 @babobotanicals/ via Facebook.com
French pharmaceutical and dermo-cosmetics company Laboratoires Expanscience has announced its acquisitions of botanically-infused mineral skin care brand Babo Botanicals, LLC.
Founded in 2010 by Kate Solomon, the U.S.-based Babo Botanicals  specializes in developing and marketing a full range of mineral and plant-based premium skin care, sun care and hair care for babies, children and adults with sensitive skin.
The acquisition will allow Laboratoires Expanscience, which specializes in skin health, to strengthen its presence in the baby and family category. The company established a presence in the U.S. in 1989 with Mustela, a dermo-cosmetic and natural skin care brand for babies and new and expecting mothers. The acquisition will also give Mustela access to U.S. distributors who specialize in natural and safe products, as well as key retailers where Babo Botanicals is launching nationwide, including Whole Foods.
Solomon will retain her position as president of Babo Botanicals, and will continue to operate with her team out of their offices in Scarsdale, New York.
"This acquisition marks an important milestone in Expanscience's development in the U.S. market," said Jean-Paul Berthomé, Laboratoires Expanscience president. "Babo Botanicals will accelerate Mustela's growth in the U.S. and is fully aligned with our commitment to the well-being of consumers. We share the same values and ambitions. We look forward to working with Kate Solomon and to providing Babo Botanicals with our expertise and resources to grow the brand both in the U.S. and abroad."
Solomon added: "Being part of a company such as Expanscience, known for its expertise in safe product formulations, development of natural active ingredients, and its dedicated R&D and production center in France, is a tremendous opportunity for Babo Botanicals to further grow the brand and its visibility and presence globally."