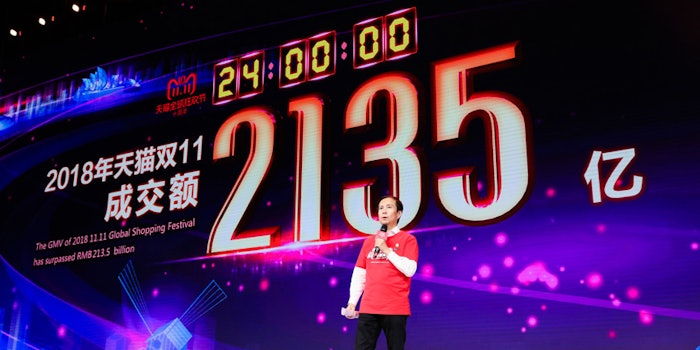 On Sunday, November 11, 2018, Alibaba's Singles' Day, an informal holiday meant to celebrate Chinese consumers who are currently not in a relationship, surpassed even Amazon's Prime Day back in July. 
The Chinese e-commerce company reportedly generated $30.8 billion of gross merchandise volume (GMV) over the 24-hour period, an increase of 27% compared to 2017.
According to Alibaba:
Cainiao Network—a C

hinese logistics company launched by Alibaba Group—

processed more than 1 billion delivery orders;
Over 180,000 brands participated;
Over 40% of consumers made purchases from international brands;
Two hundred and thirty-seven brands exceeded ¥100 million in GMV, including Apple, Dyson, Kindle, Estée Lauder, L'Oréal, Nestlé, Gap, Nike and Adidas;
Top countries selling to China were Japan, the United States, South Korea, Australia and Germany;
Two hundred and thirty countries and regions completed transactions; and
Lazada—

a Southeast Asian e-commerce company—

participated in [Singles' Day] as part of the Alibaba ecosystem, bringing the festival to consumers in Singapore, Malaysia, Thailand, Indonesia, the Philippines and Vietnam.
Daniel Zhang, CEO of Alibaba Group, said, "Today we witnessed the strength and rise of China's consumption economy and consumers' continued pursuit to upgrade their everyday lifestyles. Participation from the entire Alibaba ecosystem enabled our brand and merchant partners to engage with consumers like never before. Looking ahead, Alibaba will continue to lead the evolution towards the future digital economy and lifestyle."
Update: 
According to market research provider, Euromonitor International, beauty and personal care sales achieved stellar sales during Singles' Day (11.11).
Arianna Zhai, research analyst, Euromonitor International, stated, "In 2018, Alibaba smashed a record-breaking RMB 213.5 billion ($30.8 billion) of gross merchandise volume (GMV) in 24 hours, an increase of 27% compared to last year. More than 180,000 brands participated this year. 237 brands exceeded RMB100 million in GMV including leading international brands Apple, Dyson, Kindle, Estée Lauder, L'Oréal, Nestle, Gap, Nike and Adidas. More than 40% of consumers made purchases from an international brand. With the trend of consumption upgrading, premium and foreign brands gain prominence specific to beauty and personal care, which aligned with the overall industry."
Zhai continued, "Beauty and personal care, one of the popular sectors for internet retailing has achieved stellar sales in 11.11. This year, it took only 3 hours and a half for Tmall's beauty products to reach whole day sales of 2017. And for personal care in Tmall, it took less than nine hours to achieve last year's all-day sales. From the released Tmall's sales index ranking of beauty and personal care (see below), we could find what consumers are looking for. Foreign brands dominate the top five with three targeting premium market including Lancôme, Estée Lauder and SK-II. But multinationals are facing mounting competition from local brands at the mass end. While foreign brands lead the top, four domestic brands make their way to a top ten list including Pechoin, Chando, Homefacialpro and Winona. For domestic brands, selling ideas became a product and marketing strategy to boost sales in the 2018 global 11.11 shopping event. Tmall launched over 20,000 new products this year and co-branded new products gain popularity. For instance, Cando launched a new BB cream, which is co-branded with Wangwang, a food manufacturer in China. Also, Cando cooperated with Huggies to launch baby diaper mask. These products were immediately sold out. The co-branded strategy can be an effective way to attract the young generation."
Tmall 11.11 Beauty and Cosmetics Sales Index Rankinga 

1. Lancôme
2. Olay
3. L'Oréal
4. Estée Lauder
5. SK-II
6. Pechoin (Domestic brand)
7. Chando (Domestic brand)
8. HomeFacialPro (Domestic brand)
9. Winona (Domestic brand)
10. Innisfree
References:
a: Market research provider, Euromonitor International