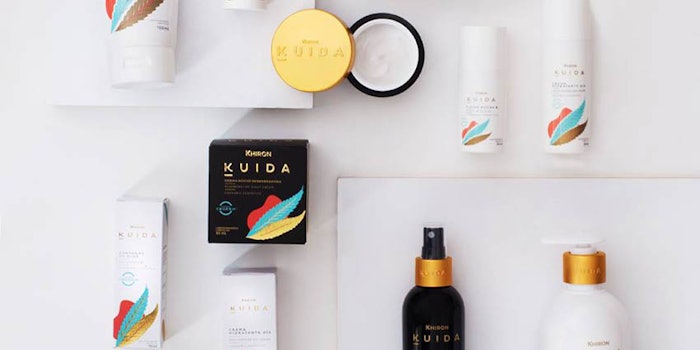 Cannabis company Khiron Life Sciences Corp has signed a distribution agreement with Colombian drugstore chain Cafam for its Kuida cosmeceutical brand.
The agreement expands Kihron's retail and e-commerce point of sales across Colombia. Launched in October 2018, Kuida is a range of skin and body care products for women featuring cannabidiol (CBD).
Cafam operates 270 stores across more than 60 markets in Colombia; the agreement will see Kuida debuting in 49 locations, expanding to 150 in the first six months of roll-out.
"We continue to see strong demand for the Kuida brand and this agreement with Cafam ensures we can reach more consumers in a convenient point-of purchase environment," said Alvaro Torres, CEO and director of Khiron. "As part of a multi-channel retail distribution strategy, and backed with our comprehensive product training programs this new partnership expands our reach in targeting the $10 billion Latin American skincare market."
Related: Is CBD Beauty the Most Important Trend of the Next Decade?
The news comes after the company announced the appointment of Edwin Bendek, MD, MA, MPH to medical director, skin care. The hire furthers the company's plan to expand its scientific expertise and resources for future product and development, global strategic alliances and research and education initiatives across Latin America.
Bendek brings more than 20 years of experience in general dermatology, cutaneous surgery, anti-aging dermatology and predictive genetics to the role. The Kihron skin care unit—part of its wellness division—is responsible for the development of Kuida.
 "The appointment of Dr. Bendek is an important addition to our skincare unit as we ramp up retail distribution, and further advance new product research and development," said Andres Galofre, Khiron co-founder and VP, business development. "Dr. Bendek's proven skincare and cosmetology experience, together with his exceptional industry network will be invaluable as we execute our research-based, product development strategy."
"I am pleased to join the Khiron team at a very important time for our industry," said Bendek. "CBD comseceutical products are rapidly gaining acceptance among retailers, health professionals and consumers who recognize the role these products can play in a beauty and health care regime. I look forward to working with my colleagues as we develop product innovations for an increasingly global market."