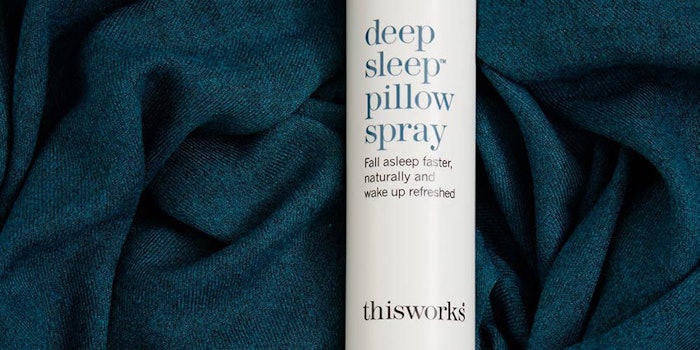 Canopy Growth, which has extensive holdings in cannabis brands, has acquired This Works in an all-cash deal totalking £43 million. The natural skin care brand is built around products designed to work with consumers' natural body clocks. This Works CEO, Dr. Anna Persaud, will retain her role in the deal.
Further reading: Cannabis & Beauty
This Works has reportedly sold 4.2 million pillow sprays in Europe, the United Kingdom, China and the United States. The brand will be able to leverage Canopy's growing operations in the United Kingdom, including the resources of Spectrum Biomedical UK, which is addressing cannabis-based medicinal products in the country.
"Since 2004, This Works has been committed to creating highly effective, natural skin solutions which are rooted in science and proven to work. We are excited about this new chapter in our company's history and the opportunity to join Canopy Growth, the world's leading diversified cannabis and hemp company," said Dr. Persaud. "As a leading wellness brand and a pioneer in sleep beauty products, we are passionate about the opportunity CBD offers beauty consumers. Canopy Growth will provide the expertise, research, scientific rigour and quality assurance that will allow This Works to drive the agenda in wellness beauty's ever-evolving market."
"We believe CBD has the potential to disrupt the cosmetic and sleep solution industries and have been working for years to build and establish the right entry point into this opportunity," said Bruce Linton, chairman and co-CEO, Canopy Growth. "As soon as we met with Dr. Persaud and her team, we knew they were the right partner to embark with on this journey."
"This acquisition is a key aspect of a multi-faceted hemp and CBD strategy as Canopy Growth continues to build upon its vertically-integrated production and marketing platform, that currently includes thousands of acres of hemp production across several continents, hundreds of millions of dollars of capital investment into hemp-derived CBD production and processing, rapid expansion across the European Union and other key regions, and the introduction of new CBD-infused products and brands to the global beauty, wellness, and sleep solution space," a press release noted.