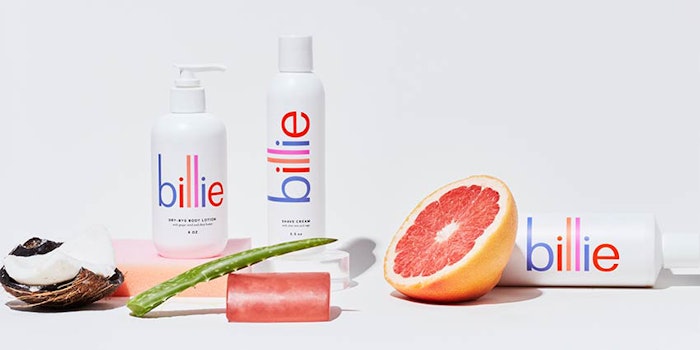 Update (January 5, 2021): Procter & Gamble (P&G) and Billie have terminated a planned merger of the companies as a result of a U.S. Federal Trade Commission complaint, per a Reuters alert.
Reuters quoted P&G and Billie on the news: "We were disappointed by the FTC's decision and maintain there was exciting potential in combining Billie with P&G to better serve more consumers around the world."
Previously: P&G is acquiring Billie Inc., a subscription-based female-centric body care/grooming brand with a body-positive mindset. The move comes a little more than a year after the CPG giant's purchase of Walker & Co.
The acquired brand will continue to be led by its co-founders, Georgina Gooley and Jason Bravman. Billie's product range includes razors, shaving cream, body wash and body lotion, and is expected to complement Venus and Braun.
"We're thrilled by the prospect of joining P&G to bring high-quality products at affordable prices to women around the world," said Gooley. "Their ability to create global household brands that have stood the test of time is a testament to their brand-building expertise; together, we'll be able to create an even stronger brand for womankind."
"The impact and consumer connection Georgina and Jason have been able to make with Billie in a short period of time has been remarkable," said Gary Coombe, CEO of P&G global grooming. "The combination of Billie's high-quality, naturals-focused razors and body care products, and P&G's highly-skilled and experienced people, resources, technical capabilities and go-to-market expertise will allow us to further reach Millennial and Gen Z women through a fresh, bold attitude."