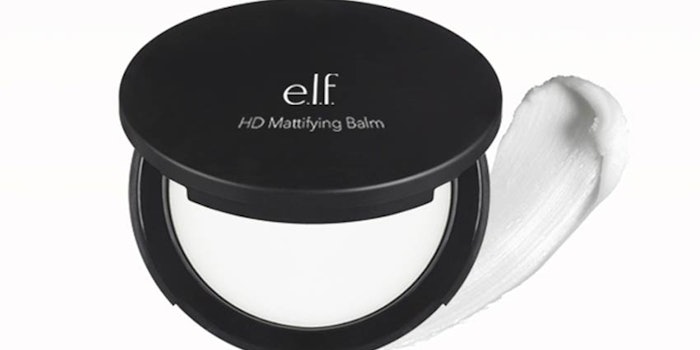 e.l.f. Beauty is filing for an IPO of as much as $100 million, according to a U.S. Securities and Exchange Commission filing. The company, which has posted sales of $96.8 million for the first half of the year, reported full-year 2015 sales of $191 million (2014: $145 million). While mass is growing modestly and prestige beauty is expanding rapidly, e.l.f. believes it has a different model for success.
1. Authenticity and Engagement
e.l.f.'s digital and social media presence has given it a stronghold with millennials and Hispanics, according to the company, and has leveraged its consumer intimacy to attract beauty's heaviest users through innovation. These shoppers, in turn, have evangelized for the brand, creating a true 21st century marketing relationship.
"Through our modern consumer engagement and responsive innovation model, we interact with our consumers instead of broadcasting at them," the company's filing notes. "This allows us to stay in tune with their needs and build trust and loyalty."
2. Digital Prowess
"[E]-commerce accounted for 10% of U.S. cosmetics retail sales in 2015 and grew at three times the rate of the broader category from 2010 to 2015," the e.l.f. filing notes. "We believe that a paradigm shift has occurred in cosmetics: today's cosmetics consumer is increasingly connected and informed, and purchasing decisions are often influenced by friends, beauty bloggers, social media and other online content."
How strong is e.l.f. in the digital space? Very.
In color cosmetics, e.l.f. stands above many of its competitors, L2 noted in a recent analysis: "It is the most visible brand in Google searches for color cosmetics terms, surpassing even buzzy brands like NYX, MAC, Maybelline, Make Up Forever, and CoverGirl. Without an over-the-top ad budget, e.l.f relies on the building blocks of SEO: clean product pages with clean HTML syntax that makes them easy to crawl, and search data."
The brand has incorporated user reviews into its SEO text, which L2 notes, "only 14% of color cosmetics brands implement."
The tactic boosts relevance for consumers, the analysis continues. e.l.f. Cosmetics also uses alt tags on all product images, which are created with pain text. While L2 applauded the techniques, the analysis concluded that success comes from the application of these tactics consistently on every page.
3. Value and Innovation
e.l.f.'s filing notes the lack of innovation among many mass beauty products, as well as the growing trend of consumers shopping accross the mass-prestige specturm. In response, the brand has developed what it describes as "prestige-inspired cosmetics," which it provides "at extraordinary value."
"We do not define ourselves as strictly mass or prestige, or limit our product availability to select channels," the filing explains.
By filling the gap, the company has created a range of products that typically retail for $6 or less, including the e.l.f. Mineral Infused Face Primer, e.l.f. Baked Eyeshadow Trio and e.l.f. Lip Exfoliator.
The pace of the innovation is as important as the innovation itself, according to e.l.f. The company's filing claimed that it can move from concept to online launch in as little as 20 weeks (average: 27 weeks).
This means the brand has introduced more than 50 new items to its range, which is critical because about 40% of its sales come from products launched within the last three years.
These products could be mass takes on breaking prestige trends, responses to category trends or adjacencies such as skin care, proving the company is always on the lookout for the next opportunity.