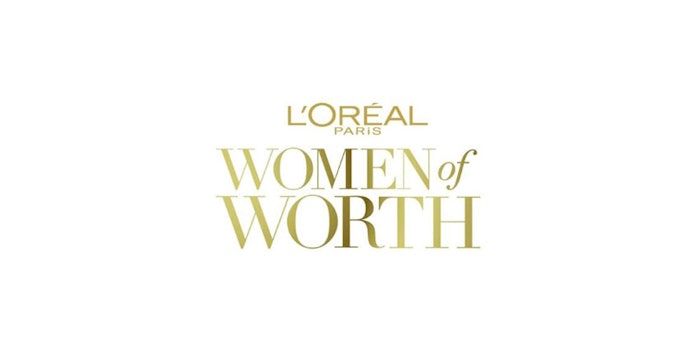 The 2016 Women of Worth Honorees were announced earlier this week by L'Oréal Paris. These 10 women have been honored by L'Oréal Paris for inspiring their communities by overcoming adversity and showing a great deal of selflessness. They have proven that everyday women can truly make a difference in the world.
The 10 honorees will be given national recognition for their hard work through networking opportunities, marketing support and $10,000 to support her cause, all from L'Oréal Paris. The public is encouraged to get in on the action by voting for one of the 10 women to be named National Honoree. This particular woman will receive an additional $25,000 to support her efforts. Voting daily continues through October 28, 2016.
How to vote:
- Visit WomenofWorth.com and register with an email address to vote daily
- "Like" a post on the L'Oréal Paris Facebook regarding a particular nominee
- Re-tweet a mention about one of the Women of Worth made by L'Oréal Paris on Twitter
"The 2016 Women of Worth are passionate and vibrant women united in a mission to improve the lives of others." 
There were a record number of 2016 Honoree nominations this year. These are the 10 women who were selected for their determination to better the lives of those in their communities.
- Monica Gray – New York, N.Y.; Founder, DreamWakers, a nonprofit dedicated to connecting underserved children with educational career support and mentorship by using the power of free video technologies to virtually connect professional leaders and diverse role models with 4th-12th grade students.
- Sandra Gunn – Arnold, Md.; Founder, LESLIE'S WEEK, a nonprofit that donates vacation homes to families of women with Stage IV Metastatic Breast Cancer.
- Marian Hamilton – Armonk, N.Y.; Founder, The Ken Hamilton Caregivers Center, an "oasis" for caregivers at Northern Westchester Hospital to take time for themselves and to freely receive assistance and emotional counseling from a team of two social workers or 34 volunteers.
- Jessica Kidd – Ruther Glen, Va.; Founder, Gracie's Gowns, a nonprofit donating personalized hospital gowns to children battling life-threatening conditions.
- Diane Latiker – Chicago, Ill.; Founder, Kids Off the Block, an organization that helps low-income, at-risk youth find positive alternatives to gangs, drugs, truancy, violence, and the juvenile justice system.
- Nadya Okamoto – Portland, Ore.; Formerly homeless teen who founded Camions of Care to provide menstrual hygiene management services to women in need.
- Debbie Sardone – Flower Mound, TX; Founder of Cleaning for a Reason, inspires residential cleaning service firms to offer four months of free, monthly household cleaning sessions for women with cancer.
- Orlaith Staunton – New York, N.Y.; Co-founder of Rory Staunton Foundation for Sepsis Prevention, an organization that raises awareness about Sepsis prevention she established after losing her son Rory to Sepsis in 2012.
- Kathy Tillotson – Huntington Beach, Calif.; Founder, Build Futures, an organization that gets homeless kids off the streets quickly, finds them permanent housing and helps them become self-sufficient.
- Carly Yoost – Boca Raton, Fla.; Co-founder, Child Rescue Coalition, a non-profit organization that has developed global technology to help law enforcement officials worldwide rescue children from predators and potential sexual attacks.
"The 2016 Women of Worth are passionate and vibrant women united in a mission to improve the lives of others," said Karen T. Fondu, President of L'Oréal Paris. "Through their actions, the Women of Worth demonstrate an inner strength that is transformative to their communities and the embodiment of our L'Oréal Paris belief that celebrates the intrinsic worth and beauty of every woman."