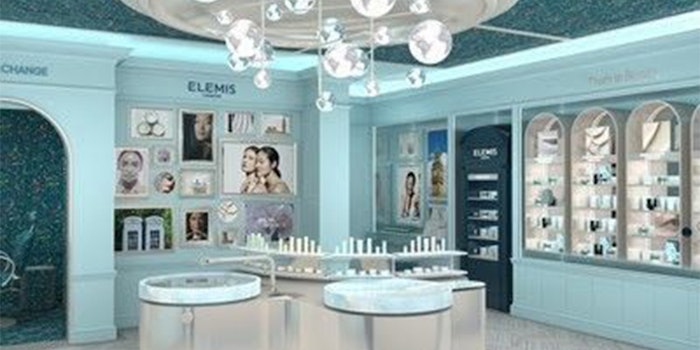 School House, a New York-based creative branding agency, has partnered with Elemis London to create store openings in 2020-2021.
Related: Gemma Chan is L'Oréal Paris' New International Spokesperson
The store is decorated with globe-inspired chandeliers, an outward-facing digital ticker of "live" service offerings meant to recall train station notice boards, and a London phone booth refinished in Elemis tonality to recall the brand's heritage.
In-store features include a physical/digital salon wall, molecular taxonomy bar and an Instagrammable private treatment space for spa services.
The first two stores will open in Jakarta and Thailand. 
Marc Gallagher, chief brand and digital officer: "Following an evolution and re-imagining of the brand, the new Jakarta boutique brings to life our new vision for modern retail selling and customer experience to deliver a bespoke brand expression. As we look to expand our retail footprint globally, local consumers should expect a unique experience that tailors our brand codes to regional shopping behaviors as the ultimate articulation of Elemis London"
Christopher Skinner, founder and principal of School House said, "We began our exploration of Elemis' rich and varied brand ethos by asking ourselves the same question of which the brand asked itself during its founding days, 'How can the sensoriality of scent affect results in retail?' We uncovered the striking base, heart and top notes that make Elemis profound, bold, and memorable. This helped to create a scalable retail strategy that engages the consumer's needs and emotions at the same time. It's an ecosystem where branding lives within the physicality of the space, in much the same way that Elemis creates its beautiful, natural products."