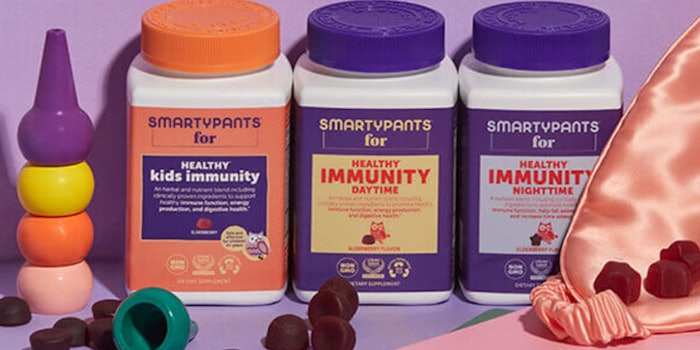 Unilever has announced that it will acquire SmartyPants Vitamins.
Previously: Unilever's Find Your Happy Place Line Available at Walmart
Terms of the deal were not disclosed. 
SmartyPants Vitamins was founded in 2011 by Courtney Nichols Gould and Gordon Gould.
Fabian Garcia, president of Unilever North America, said: "We are delighted to welcome SmartyPants Vitamins to the Unilever family and our portfolio of purpose‐led brands. SmartyPants Vitamins aligns strongly with our mission to improve the health and well-being of consumers and empower people to take charge of their health with solutions they can understand and trust."
Peter Ter Kulve, president of health & wellbeing at Unilever, said: "SmartyPants Vitamins complements Unilever's portfolio of brands (Horlicks, OLLY, Equilibra and Liquid I.V) in the functional nutrition and supplement segment. We are excited to work with co‐founders Courtney and Gordon and their team to grow their innovative and data driven business model."
Courtney Nichols Gould & Gordon Gould, said: "From the start, SmartyPants Vitamins has been about family, authenticity and a core commitment to our collective well‐being. We are excited to work with Unilever to grow the SmartyPants brand".