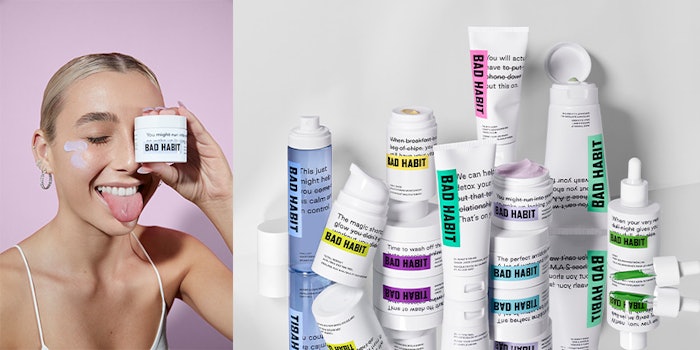 Forma bands has announced that influencer Emma Chamberlain will be Bad Habit's global brand ambassador and creative director.
Related: FORMA Brands, Home of Morphe, Acquires Playa Beauty
The skin care line is launching with a collection of 10 products at Ulta and Morphe by December 29, 2020.
Each product is made with multi-sensory formulas such as functional fragrances, calming or energizing ingredients, and soothing textures developed to nourish and renew stressed-out skin.
The skin care line includes:
Four Daily Essentials:

Wake Things Up, Matcha and Mint Daily Cleanser, a morning purifying cleanser made with matcha green tea, aloe vera as well as mint and neroli essential oils. 

Daily Dose, Multivitamin Moisturizer, a morning moisturizer with vitamin B5, C, E and niacinamide.

OMZZZ, Nightly Cleansing Balm, a night time cleanser with grapeseed oil, shea butter, vitamin E and lavender oil. 

Power Sleep, Melatonin and Glycolic Night Cream, a night time moisturizer with glycolic and hyaluronic acids, lavender and chamomile essential oils as well as melatonin.

Six Quick Fix Treatments:

Total Reboot AHA/BHA Enzyme Peel, made with blends of AHA, BHA and PHA to exfoliate skin. 

Silent Mode Hyrdrating Hyaluronic Mask which contains blue green algae, lavender and neroli essential oils to hydrate skin.

Dewd Hemp Nourishing Facial Oil, made for dull or dry skin with ingredients such as hemp, moringa seed oil, adaptogens, lavender and geranium essential oils.

Chill Out, Adaptogen Hydrating Mist contains hyaluronic acid and both mandarin and clary sage essential oils. 

Palm Reader, Adoptogen Nourishing Hand Cream is made with apricot seed oil and avocado as well as mandarin and chamomile essential oils. 

10-Minute Rehab Green Juice Charcoal Detox Max, a rinse-off charcoal and clay mask made with cucumber, aloe, and lemon and rosemary essential oils. 
The products are made without parabens, sulfates, phthalates, mineraloil, formaldehydes, retinyl palmitate, oxybenzone, coal tar, hydroquinone, triclosan, triclocarban, and clean, vegan, and cruelty-free. 
Chamberlain said, "Bad Habit is me in a skin care brand, it's honest, unapologetic, and realistic about the fact that life is far from perfect. When I was younger and dealing with acne, I felt totally lost when it came to skin care. I couldn't connect to any brands or products because they all were expecting perfection. Bad Habit is the kind of brand that I would've felt safe going to at that time because the message is so positive, honest, and real. It's perfect for people just starting out on a skincare journey because of that message, but the products are so great and effective that lifelong skin care experts are going to love them too."