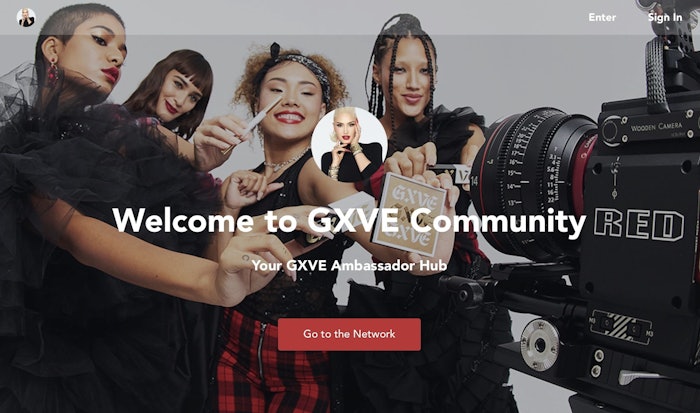 Gwen Stefani's Gxve Beauty has unveiled The Gxve Community, a proprietary digital platform that gives consumers the tools they need to create, share and inspire with their unique makeup looks while benefitting financially through a commission rate that is above the industry average. 
To apply to The Gxve Community, consumers should visit the "Ambassador Program" tab on the brand's site. Selected ambassadors, also known as "Gxvers," will be granted access to the proprietary brand platform. 
Those selected as Gxvers gain exclusive access to videos from founder Gwen Stefani, product education and application tutorials, social content and product images and the ability to share and engage in brand polls and chats. 
Gxvers will also receive 30% commission on any items sold via their ambassador link, said to be one of the highest standardized rates in the industry.
Stefani said, "Gxve Beauty is the next chapter of my life. It's an extension of my passion for being creative, for finding identity and being artistic. Makeup gives you the freedom to play the roles you want to play. I've dreamed about the day of launching the Gxve Community and now it's here. I wanted to partner up with the people who have been my partners all along. We've always had this exchange of love, whether it be through the music I've written or fashion and now beauty. If you love makeup and you love to be your own individual, you're going to love this community and I can't wait to see what everyone creates."
New Theory Ventures entrepreneur in residence, Stuart Leitch, said, "Gwen Stefani is a visionary. When she does anything—she's all in. She has such a genuine love for the community of people who support her and who share in her love of makeup as a form of self-expression. With zero promotion of the ambassador program, we've been blown away by the overwhelming number of people who organically signed up. Our early beta testers embody Gwen's spirit—they're learning from each other, they're being creative and lifting each other up. There's a real magic in the experience. Every day is a new opportunity to share creatively and we couldn't be more thrilled to open up the community to everyone."