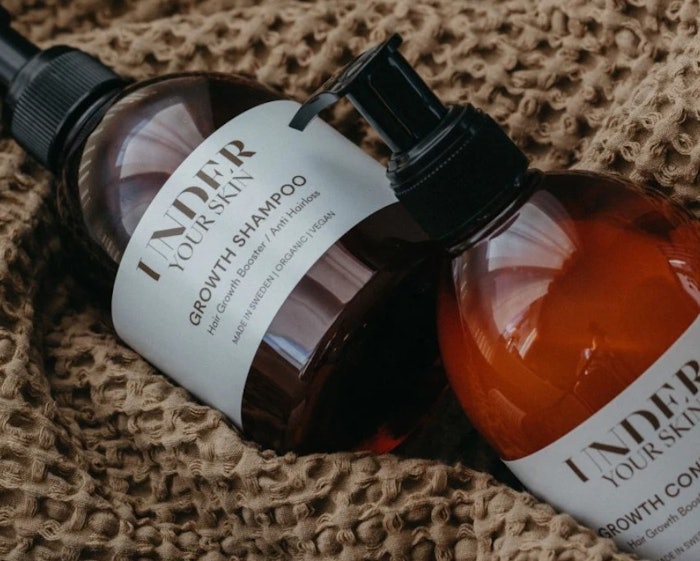 Tenth Avenue Holdings has acquired Under Your Skin, a natural skin and hair care brand based in Sweden. The brand will launch its product line in the U.S. market in 2023.
Previously: Arkive Headcare Available in United States
Under Your Skin was founded by mother-daughter duo Christina and Lovisa Hahn. Lovisa will be named CEO under this new partnership.
The brand's products, available online and featured in many high-end hotels in Northern Europe, are developed and made in Sweden with all-natural, hand-picked ingredients.
In addition to stem cell extract from milk thistle and oats from Sweden, other natural ingredients are sourced from France, Germany and Spain.
The cruelty-free products are made without parabens, silicon, sulfates, synthetic fragrances, petrochemicals or microplastics. Under Your Skin's product line includes a Hair Growth Kit (activating hair serum, shampoo, conditioner), Organic Detox Shampoo & Conditioner, Organic Body Wash & Body Lotion, Organic Hand-Kit (hand wash, hand sanitizer, hand cream), Organic Baby Kit (baby oil, baby cream, baby wash), and Natural Glow Face Oil.
Joel Citron, co-CEO, Tenth Avenue Holdings, said, "Christina and Lovisa's ethos and ours are a shared vision to build a company with enduring value, grow our businesses while impacting the world positively, and maintain an inclusive culture. e look forward to introducing the founder-led business' brand extension to the American market in 2023."  
Lovisa said, "We are excited our natural beauty and skin care brand has joined Tenth Avenue Holdings' portfolio of privately held businesses that span gifting, pets, lifestyle, apparel and accessories industries. Led by our growth marketing innovator, Fedja Porobic, our promotional plans include establishing retail partnerships with top direct-to-consumer e-commerce marketplaces."