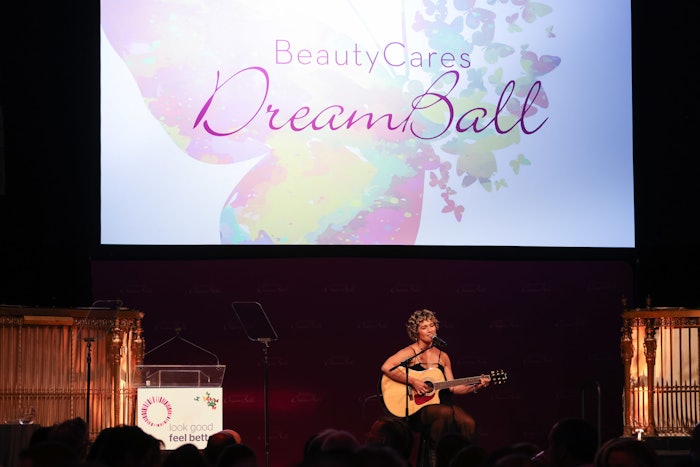 Look Good Feel Better, the global charitable organization dedicated to serving people in cancer treatment, celebrated its annual BeautyCares DreamBall September 21, 2022.
The in-person gala is the largest fundraising event for the Look Good Feel Better program, which provides free workshops for people in cancer treatment designed to help address the physical and appearance related side-effects that often accompany cancer treatment.
The gala gathers leaders across the beauty, personal care, retail and publishing industries, as well as program volunteers, hospital partners, health care providers, cancer patients and survivors to celebrate and support Look Good Feel Better.
The program featured Mistress of Ceremonies Broadway star Kara Lindsay, best known for her roles as Katherine Plumber in Newsies, and Glinda in Wicked, and a musical performance by singer-songwriter and three-time cancer survivor Bianca Muñiz.
This year's honorees include:
Ariel Kopelamn, distinguished businessman, former president, Chanel (Legacy Award)
Maria "Duda" Kertesz, president, U.S. skin health, Johnson & Johnson Consumer Health (Corporate Champion Award)
Lily Garfield, founder, Cos Bar (Survivor Advocate)
An online auction, featuring dozens of exclusive items and experiences was open through October 3, 2022.
Louanne Roark, executive director of the Look Good Feel Better Foundation, said, "We are excited to welcome our supporters and friends back to the BeautyCares DreamBall Gala—our first live event since 2019. We are grateful that technology allowed us to deliver our programs to patients in need without interruption over the past two years, and we look forward to gathering in-person once again. Our commitment to people enduring cancer treatment is shared by our generous corporate supporters, hospital partners, professional beauty volunteers and program champions across the country and around the world, and our passion for and ability to deliver support, community, confidence, and a renewed sense of well-being to cancer patients remains steadfast. Cancer does not stop or discriminate who or when it strikes, and Look Good Feel Better is better positioned than ever before to help any cancer patient in need of our lifechanging support."