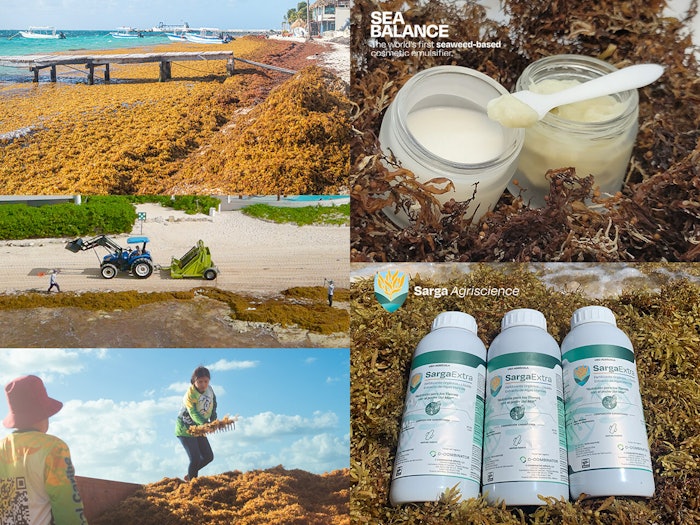 Carbonwave has announced it has received $5 million in Series A funding, led by Mirova, Viridios Capital, Popular Impact Fund and Katapult Ocean.
This investment round brings the total funding to date to $12 million and will be used to build large-scale cosmetics emulsifier production facilities in Puerto Rico to satisfy growing customer demand for biomaterials.
Carbonwave has two operations—one in Puerto Morelos, Quintana Roo, Mexico, and the other in Carolina, Puerto Rico—and is exploring additional ventures in the Caribbean to bring about new economic opportunities centered on sustainability, climate, and positive social and economic impact.
The current Puerto Rico facility, used for R&D, has a developed a leather alternative from Sargassum (the floating seaweed masses), which it will be launching soon.
Carbonwave is said to be the first company to chart a route to profitably process Sargassum and has developed a novel and proprietary method of extracting its unique biopolymers that are even more valuable than the simple compounds when extracted separately.
This extraction method has made Carbonwave the first in the world to produce a wide range of Sargassum-based biomaterials that can displace fossil fuel-based products, such as emulsifiers, textiles and plastics.
Geoff Chapin, co-founder and CEO of Carbonwave, said, "In three short years, we've become the first company to build a scalable cascading biorefinery to create a commercially sustainable operation harnessing Sargassum into high-value products. Support from our investors and partners has allowed us to catalyze our proprietary technology and manufacturing process to turn the Caribbean's seaweed crisis into an economic opportunity and a climate solution. We are producing viable alternatives that redirect demand from fossil fuel-based products by cost-effectively developing a wide range of regenerative, low-carbon, and plant-based alternatives that global industries are seeking to advance their sustainability and decarbonization initiatives, while contributing to the bio-circular economy."
Simon Dent, head of blue investments at Mirova, said, "Mirova, through the Sustainable Ocean Fund, is thrilled to continue its support for Carbonwave with this follow-on investment into the company. We believe that Carbonwave's processing of Sargassum into high-value products is an excellent example of the blue economy at work, whilst also providing a unique solution to help address decarbonization."