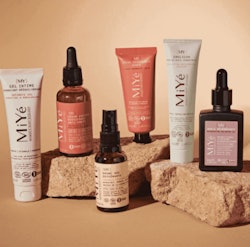 MiYé e-commerce site
Pierre Fabre Laboratories has taken a minority stake in French skin care and supplement brand MiYé, which focuses on women's hormonal balance and well-being from puberty to menopause. The company is the sole minority shareholder, alongside MiYé's cofounders, Caroline de Blignières and Anna Oualid.
The investment follows Pierre Fabre Laboratories' majority shareholder stake in skin care and color cosmetic brand Ladrôme Laboratoire and acquisition of cancer-patient-focused Même Cosmetics.
MiYé, cofounded in 2020, will tap Pierre Fabre Laboratories' medical expertise and background in the pharmacy market to drive innovation and growth.
The brand's current range of 13 products includes five dietary supplements and eight dermo-cosmetics.
MiYé will reportedly soon launch a "personalized support program" that features online consultations with naturopaths and micronutritionists.
"Pierre Fabre Laboratories' acquisition of a stake in MiYé two years after our launch is a fantastic endorsement," said de Blignières. "It's an invaluable opportunity to strengthen our R&D resources so that we can promote the democratization of women's hormonal health and work together to redefine the rules of a new ecology for the female body - one that is holistic, transgenerational and, above all, safer."
Oualid added, "When we launched MiYé, we set ourselves the ambitious goal of making a medical topic easier to understand for the general public by using cosmetics concepts in tune with women's daily routines, via premium, multi-channel distribution. Who better to support us today than Pierre Fabre, with its long-standing commitment to women's health?"
Frédéric Ennabli, CEO of Pierre Fabre Dermo-Cosmétique, noted, "Hormonal balance is a major stake that dermo-cosmetics shall address. With MiYé, Caroline de Blignières and Anna Oualid have found a way to support women from puberty to menopause. They have created a brand with a strong territory, with specialized and differentiating products that are now esteemed by consumers, such as the Happy Cycles Serum."
He added, "By partnering with MiYé, we are committed to providing our medical and dermatological expertise to develop the best possible responses to take care of all skins affected by hormonal variations."
Ennabli concluded, "We are thus continuing Pierre Fabre Laboratories' long-standing commitment to supporting women's health by enabling pharmacists to accompany them in the best possible way, whether through our demo-cosmetics or our medicines, which have pioneered the treatment of iron deficiency anemia, a very common condition during pregnancy, and now thanks to this strategic partnership."