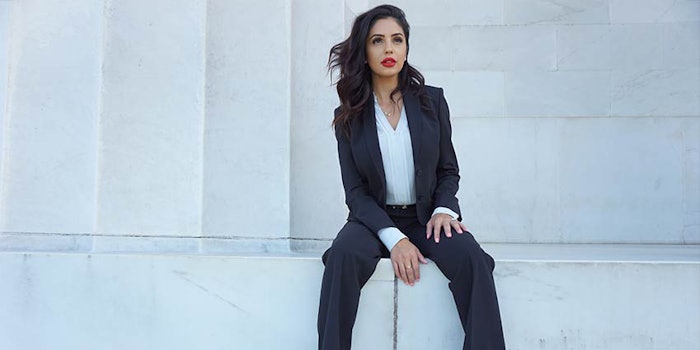 Jackie Hernandez's journey has taken her from a young immigrant working as a waitress in the United States to an accidental YouTube and social media star to the founder of J'dez, a beauty brand that has launched in North America, the European Union and a handful of Latin American markets. Here's how she did it—and what's next.
Finding a Passion
Hernandez, aka MakeupByJH, was born and raised in Guadalajara, Jalisco, Mexico. As a teenager, lacking the educational opportunities she sought in her home country, she emigrated to the United States with her family. Living in Southern California, Hernandez worked as waitress, hoping to save money for school. At the urging of her older sister, she eventually enrolled in a makeup training program. This was the turning point.
Hernandez says she loved the makeup training and, in 2012, began sharing tutorials on YouTube and Instagram in her free time. The encouragement she received from viewers and followers was great, she says: "Now, it's my passion."
Related: Top Brands Among Influencers
When Hernandez began posting her tutorials, she was the mother of a four-year-old child and, after completing her education, had had a second child. She refers to her posts from that time as a hobby, but once Hernandez realized it was time to return to work, she began to seriously consider the revenue potential of her increasingly popular and engaging social media presence. This, she realized, could be her job.
From Hobbyist to Influencer
Like many of her influencer peers, Hernandez is largely self-taught. She educated herself on the monetization of YouTube and other videos and set about polishing the presentation of her content. She says, "It snowballed from there."
Hernandez's YouTube channel has always been presented primarily in Spanish, which reflects her large Latina audience. However, her other channels tend to be more bilingual, freely mixing English and Spanish. (A recent post from her English language channel is below.)
The results have been impressive. As of press time, Hernandez had accumulated almost 883,000 Facebook followers, 152,000 Twitter followers, 1.1 million Instagram followers and 2 million YouTube subscribers on one channel and 868,000 in another.
"If you keep focused on your thing, then you have a good chance of keeping your audience."
However, the playing field is shifting. As Madison Reed's Colleen Garland noted recently, "[social] platforms are significantly changing their algorithms to support community, which are your friends and family, or 'pay to play' impressions, meaning paid ads and boosted posts."* As a result, influencers are finding it more challenging than ever to reach and engage the audiences they've built with purely unpaid impressions. 
Hernandez acknowledges the challenges for creators working on social media platforms, but adds, "If you keep focused on your thing, then you have a good chance of keeping your audience." Her solution is to be creative, to experiment with the latest trends and to remain focused on what she does best: makeup tutorials and reviews. 
Still, facing a tougher social media climate, Hernandez began to consider the next phase of her career. The solution: leverage the savings she'd accumulated in her influencer role and her passion for makeup to launch a new brand, J'dez. 
Becoming a Brand Leader
The J'dez range currently comprises Matte Liquid Lipsticks in Apple Poison, Daydream, Cray Cray, Shalala and Naughty Nude, and the OMG Highlighter Palette. The brand will launch an eyeshadow palette, eyelashes and lip glosses beginning later this year.
Launching her own self-funded brand has been "a process," says Hernandez. She explains that the critical step involved finding the right manufacturer. While some contract manufacturers "get" the world of influencers and find it exciting to help build fledgling brands, others are far more circumspect about the use of even large social platforms as brand launchpads. Hernandez argues: "People should be more open."
Hernandez had expected Mexico to be her leading market but found that the strongest response was right in her home base of the United States.
Hernandez notes that, while customers are clamoring for new products, she has had to wait until payments for her first wave of launches materialized. This is where investor dollars can help an upstart brand. However, Hernandez explains that, as in the manufacturing world, investors don't always comprehend or trust in the value of influencers—especially if they're a woman and Latina. 
Multinational Launches
None of this has stopped J'dez from launching in the United States, Spain and the wider European Union, Peru and El Salvador, with limited distribution in Mexico. The brand's next phase will encompass more market penetration in Mexico, as well as launches in Colombia, Chile, Argentina and Costa Rica. 
Hernandez had expected Mexico to be her leading market but found that the strongest response was right in her home base of the United States. She's also become keenly aware of the different makeup cultures in various Latin American markets. Consumer makeup techniques in the region tend to lag those of the United States.
"If you make mistakes you have to get up and do it again and make it better."
This presents a distinct advantage for a brand founded by an influencer well versed in training viewers in the latest techniques. Additionally, Hernandez explains that Latin American consumers typically have less access to the breadth of brands seen in the U.S. and Western European markets. This, too, presents an opportunity to bring great beauty products to the consumers who want them.
A Meaningful Brand Story
Hernandez notes that her own personal story has been an asset. Her journey as an undocumented woman who came to the United States and founded her own self-funded beauty brand clearly resonates with many consumers.
Get Up and Do It Again
The life of a brand founder and active influencer requires 12-15-hour days. In addition to producing her videos, Hernandez promotes her brand on social media, handles customer service, addresses packaging needs, visits her manufacturer and finds time for family.
As always, Hernandez is learning as she goes. She says that the makeup world is highly competitive, and founders need to bring their own commitment to making things work: "If you make mistakes you have to get up and do it again and make it better."
From Reviewer to Reviewee
So, what is it like to go from influential product reviewer to a brand owner whose products are put under the harsh scrutiny of social media? Hernandez says that while she's always tried to be diplomatic in her own critiques, she is now acutely aware of just how hard it is to produce a beauty product.
Nothing is ever going to be perfect, she says, particularly when consumers of all types and preferences are scrutinizing products. That said, she pays attention to the criticisms to make her brand continuously better. She says it's tough to hear negative reviews, but that it's important to learn from them.