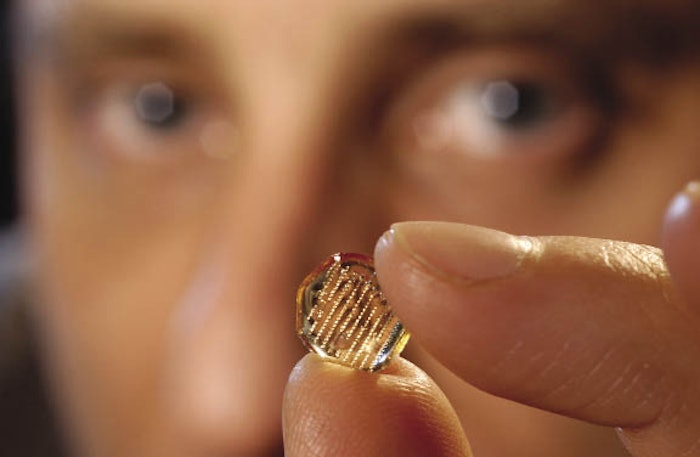 R&D will borrow ideas from the medical field, materials science, food and environmental industries for future skin care ingredients and delivery system innovations.
It will be much more difficult to introduce a new ingredient to the market, due to growing global regulations, so companies will look much closer at how the "old" ingredients could work better.
Similar metal or polymer microneedles being researched in the U.S. and Europe for use in cost-effective, mass immunizations may enable new delivery methods for antiaging skin care actives and other ingredients.
Fowl" analogies such as the chicken and the egg question—Which came first?—stumped several interviewees recently when GCI magazine asked skin care brand owners, research scientists, ingredients suppliers and distributors: Which comes first—active ingredients or their delivery systems? In most cases, responses were all-encompassing, indicating the importance of each component in its own right, sometimes independent but always reliant on the other to uphold a product's efficacy and, therefore, its marketing claims.
But from GCI magazine's more than 17 in-depth interviews about the subject, four major factors made their presence known—the "4Rs of delivery—right chemical, right site, right concentration, right period of time," as noted by Johann Wiechers, PhD, president of the International Federation of the Societies of Cosmetic Chemists (IFSCC).1 These 4Rs define the future of skin care, encompassing most of the marketing claims consumers encounter, as well as outlining the importance of actives and their delivery systems, simultaneously. Like the chicken and egg cycle, you really can't have one without the other.
"Usually the active gets the credit for the efficacy, but it must be delivered in a safe, stable and effective fashion. That is the role of the base and the delivery system," says Konstantinos M. Lahanas, PhD, director of innovations for Limited Brands' Beauty Avenues, a personal care sourcing company serving Victoria's Secret, Bath & Body Works and third-party customers. "In the end, what matters is the value added in the product to attract consumers to purchase the product."
A term borrowed from the pharmaceutical industry by way of delivery methods for smart drugs with time-release dosages, the concept of delivery systems for actives is just as important when it comes to skin care. This year's delivery advancements have paved the way for other innovations too, including high-tech ingredients that trigger cellular functions and, in some cases, slow the signs of aging. These aspects work together to ensure that a consumer's emotional and financial investment in a new product is worth it. After all, consumers expect claims to be backed up with efficacy.
Anne-Laurie Rodrigues, marketing manager of Cognis France's Laboratoires Sérobiologiques (LS), understands the pressures consumers place on brands for fast and potent results. "Consumers today have more product and service options than at any time in history. Information and transparency are crucial to enabling them to compare benefits and risks," Rodrigues says. "Finding differentiating—but also credible, understandable and relevant claims—to develop products with immediately perceivable benefits represents a big challenge for the cosmetic industry for both suppliers and manufacturers.
"The rise of the cosmeceutical brands, or so-called 'doctor' brands, has recently witnessed consumer appeal," she continues, "[To serve this consumer base], an increased number of active ingredients are being incorporated into products, promising a sustainable growth of cosmeceutical skin care products and challenging active ingredients suppliers. Cosmetic manufacturers are therefore constantly seeking even more effective and innovative cosmetic ingredients that combine identified mechanisms of action, demonstrate benefits and perfect skin tolerance in line with cosmetic regulation."
Buzzing About Actives
Peptides—chains of amino acids that offer various skin care benefits and signal a body's cells to perform specific functions—have been a hot skin care active because of their flexibility and performance. "There are peptides that firm the skin and reduce the appearance of wrinkles; there are others that combat the effects of stress, while others help reduce circles under the eyes, and still others that help the appearance of the skin's barrier," offers Beauty Avenue's Lahanas.
Polypeptide 153 by Voss Laboratories' Amatokin brand, for example, is a serum that triggers adult cell renewal using the stem cell reservoirs in one's own skin, particularly useful in antiaging formulas.
And according to Freeze 24-7's CEO and founder, Scott Gurfein, multifunctional antiaging skin care products fuel the growth of the skin care category. On the other side of the globe, France's LS has developed two new tetrapeptides, dermican and syniorage, to enhance skin elasticity, firmness and radiance. In vitro tests and clinical trials with middle-aged female volunteers determined the actives' efficacy after a few months of treatment.
Looking to the future, Rodrigues says LS has focused its R&D efforts on reducing neurogenic inflammation. "This has led to the development of an upcoming peptidic active ingredient aimed at decreasing nerve stimulation, thereby helping to relieve sensitive skin by reduction of cutaneous hyper-reactivity to environmental factors or stimuli," she says.
Another system aiming to improve the signs of aging on the face and body is Skinmimics, novel active ingredients by Germany's Evonik Goldschmidt GmbH. Five years in the making, the system is designed to moisturize, protect and regenerate mature skin, says Betty Santonnat, global marketing manager of actives. "Skinmimics is composed of unique ceramides and the newly identified sphingokines molecules," she says. "It is able to optimize the total epidermal water management system acting at three levels: It repairs the skin's own water protection barrier; it activates the skin's own water natural moisturizing system; and it increases the glycerol and water transport mechanism."
France's Silab, a research company providing bioactives for skin care and other markets, also recently released several new antiaging ingredients. Introduced during In-Cosmetics 2008 in Amsterdam, Netherlands, Papilactyl D, from the African tiger nut plant, reinforces the elastic properties of skin tissue to prevent wrinkles, according to M. Cruchon, CEO, Silab Inc. The company tested the efficacy of the product's claims in-house. Thanks to its R&D department, which represents a third of its workforce, Silab has launched several other new actives—including Longevicell, from the Mediterranean myrtle shrub flower, which revives cellular metabolism and communication to preserve the functions of skin tissues; and Heliomoduline, made from cottonseed peptides, to help in the skin's DNA repair process in response to exposure to UV rays.
But how do these active ingredients get to their final destination? That's where delivery systems come in.
Nano Delivery Systems
Nanotechnology, one type of delivery system, involves nanometer-sized particles of ingredients, about 100,000 times smaller than the width of a human hair, that penetrate deeper into the skin's layers to repair tissue and deliver other beneficial effects.
But nanotechnology isn't the only hot button spurring R&D formulators to action.
Emulsions—droplet-sized semi-solid liquids that topically deliver products to the skin, during which active ingredients can penetrate the top layers for their desired effect—are growing in sophistication.2 Select body lotions in P&G's Olay line, for example, utilize mineral spheres to deliver ingredients.
According to P&G Beauty's Mary Johnson, principal scientist, and Eric Admiraal, Olay brand manager, P&G Beauty first identifies a skin care active by in vitro methods and then designs a delivery system for in vivo testing to complement it. "We have also carefully designed our products to prevent interactions that could limit delivery of actives to skin. For example, we avoid product components that could complex with an active, thus impeding skin penetration," say Johnson and Admiraal. "In addition, solvent types and levels are selected to maximize the partitioning of the active out the solvent and into the skin."
Denise Elias-Costrini, global marketing manager of the Amerchol Corporation, a subsidiary of The Dow Chemical Company, says Amerchol conducted lab evaluations with actives such as vitamins A and C to validate the benefits it promotes for its new SatinFX delivery system, which the company launched at In-Cosmetics earlier this year. This encapsulation technology stabilizes hydrophobic and hydrophilic actives over time, preventing oxidation and discoloration of the finished formulation, she says. By shaking the system, it forms multilayer vesicles that encapsulate an active, improving its stability and efficacy. The vesicles break, says Elias-Costrini, when they are rubbed on the skin. "This also allows the encapsulation of 'incompatible' ingredients such as dihydroxyacetone (DHA) and amino acids, which can be used to create a sunless tanning product that also provides antiaging benefits," she adds.
Croda Inc. also released two new advanced delivery technologies. Crodafos CES slows down the water evaporation of an emulsion on the skin, and the lipid and water-soluble Arlasolve DMI-PC, derived from corn syrup, is effective in the delivery of difficult-to-dissolve functional materials, according to Mark Chandler, technical manager of Croda Inc.'s skin care innovations lab. However, Chandler says that even with measurable clinical testing taking place, challenges abound when working with skin care delivery systems. "There are no one-size-fits-all systems. What worked for the previous material may halt delivery of the next material of focus," he says. "The formulator must be willing to work with unfamiliar emulsion systems and delivery vehicles to obtain success. In the process, though, the formulator may not only build a more effective product but also may design one that has differentiated aesthetics."
Wiechers notes, "Cosmetic scientists generally do not want their cosmetic active ingredients to penetrate all the way through the skin into the systemic circulation … Functional ingredients such as UV filters should remain on the skin surface … Other functional ingredients, such as antioxidants, skin lightening ingredients and molecules with antiaging properties, often exert their activity in the viable epidermis or even the dermis."3 Wiechers says advanced skin care ingredients must be paired with accurate delivery systems to reach a site of action without being "inactivated by metabolism" or concentrated so much that "the effect starts to become toxic."4
Niadyne, Inc. develops cosmetic products under its Nia 24 skin care brand under the same guidelines and practices as its pharmaceutical products, and formulates with a proprietary delivery technology. "Our micronutrient delivery system brings a continuous release form of niacin to the skin," says Myron Jacobson, PhD, chief scientific officer, Niadyne, Inc. "Our Pro-Niacin molecule contains a lipophilic—or fat-loving—tail so that it can penetrate the skin."
Of course, once formulators have overcome their R&D challenges and successfully reached the 4Rs of delivery, it is time for marketing departments to promote the new product's claims.
Compounding Claims
Karen Newman, group editor in chief of GCI magazine, writes that marketing delivery systems together with active ingredients, rather than separately, is important, because "delivery systems exist to improve the efficacy of an active in a formulation."5 This dual marketing also makes more sense to consumers.
"There is a closer relationship with less of a push-pull effect now," says Art Rich, president and CEO of A. Rich Development, LLC. "Marketers are aware that new technologies will provide the edge that will peak the consumer's curiosity and interest. R&D is sensitive to the marketing plan to use technology and sees the technical efforts being translated to marketing promotions."
However, when marketing complex scientific technology, more simplistic and gradual advertising campaigns may boost consumers' understanding of a product line. Such was the case with luxury skin care line Amatokin. Gina Daines, director of marketing, Voss Laboratories, says although the company launched the Amatokin brand in January 2007 at Sephora's flagship Champs Élysées boutique in Paris, it opted for a slower, multitiered PR approach in the U.S. to alleviate any confusion behind the products. Amatokin is just now advertising in print, and promoting the method in which the products work with skin stem cells to boost their renewal.
Cellular renewal claims are not limited to Amatokin. PerriconeMD Cosmeceuticals (with StimulCell, composed of proteins, peptides and lipids that mimic signals delivered by skin's stem cells for cell proliferation); Christian Dior (with marine-based actives in Capture R60/80 XP); and suppliers such as Mibelle Biochemistry (with PhytoCellTec Malus Domestica, a patent-pending active based on apple stem cells that may ensure the longevity of human skin cells) are offering products with these claims.
When Peter Lamas, founder of Lamas Beauty Intl., realized that antiaging peptides were growing in popularity in the skin care market, his R&D team began working with a tripeptide from Brazil's temple viper snake, to be released by winter 2008. "Unlike Botox, which paralyzes the muscles, this constricts the muscles, which is more comfortable for the user and still allows limited movement," Lamas says. Using an active that limits muscular reaction when showing emotion may reduce this loss of skin elasticity, he says.
Likewise, companies serving the medical field also understand the importance of daily skin care, and are turning to physician-targeted brands into mass consumer branches. Dermazone Solutions, which sells clinical formulas to the medical field through its Celazome brand, expanded in 2003 by opening a consumer product division, Kara Vita, offering some of the formulas it sells to physicians. The formulas use patented nanotechnology, Lyphazome, to time-release pharmaceutical-grade botanical actives, such as algae and pineapple extracts, through encapsulation to the skin. "We've had liposome-based microsphere technology for more than 14 years now," says Deborah Duffey, president of Dermazone Solutions. "We started in topical dermatological products, and now, with our all-natural encapsulation nanotechnology, we have the ability to move into nutraceuticals (vitamins and supplements)."
"We build our formulas on potency, penetration and purity," Duffey says. And those formulas include an array of advanced cosmetics and cosmeceuticals that feature proprietary ingredients delivered with Dermazone's Lyphazome nanotechnology.
Whereas some companies focus on innovative delivery systems, Niadyne, Inc.'s Jacobson is one researcher who believes ... "the key feature is the benefit obtained from the product. The delivery system used to achieve the benefit is clearly secondary to a consumer." However, even with proven, aggressive marketing claims, Freeze 24-7's Gurfein believes that "generally, the consumers stay within their comfort zone, so the challenge on the marketing side to get them to try the product is not easy."
Teamwork
All of the companies GCI magazine interviewed reiterated the importance of closely-tied R&D and marketing departments, a working relationship that has grown in recent years with the expanding demand for advanced skin care claims. "Recognizing formulators' need to improve the stability and delivery of active ingredients and consumers' increasing demand for multifunctional skin care products, our marketing and R&D departments worked together to identify the technology behind SatinFX … and to successfully launch it in the market," says Amerchol's Elias-Costrini.
"Having a great idea, knowing how to implement it and demonstrating compelling business reasons are excellent starting points when advising our marketing clients," Lahanas says. "This approach aligns the various teams up front and defines goals and expectations, thus reducing duplication, cancellations, setting of priorities … achieving far greater speed to market."
When his brand launched Freeze & Go in 2007, Gurfein says his marketing and R&D teams also worked closely to merge ideas—including performance-based cosmeceutical formulation, portability and visually appealing packaging. "This product hosts a specialized delivery system for smooth application, a multilayered optical complex for increased luminosity and a proprietary treatment formula that provides a protective antioxidant shield," he says. "Potency is important. Pricing has little to do with it."
In Germany, three technology pillars—chemistry, biotechnology and plant extracts—determine Evonik's range of ingredients. "Performance and market-driven research within our organization is key," Santonnat says. Such is the case with the majority of players on the skin care field.
References
J Wiechers, Science and Applications of Skin Delivery Systems, Carol Stream, IL; Allured Publishing Corp (2008), 3
Ibid., at 173
Ibid., at 1,3
Ibid., at 4–5
Ibid., at 482–483
Leslie Benson is assistant editor of GCI magazine.