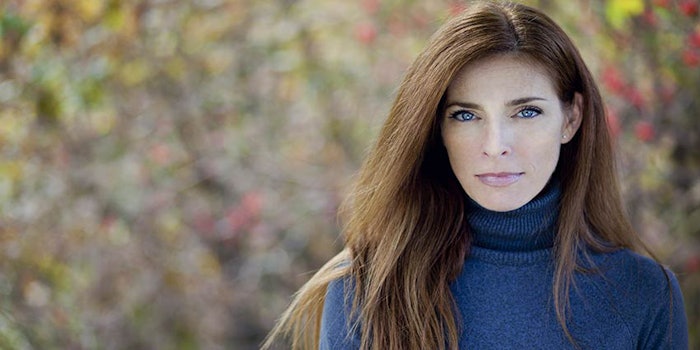 Anti-aging concepts represented a broad array of approaches at this year's in-cosmetics Global event.
Related: The Death of Anti-aging?
1. Anti-aging for Every Climate
During in-cosmetics Global, Mibelle Biochemistry hosted a launch party at the NEMO Science Museum in Amsterdam for its MossCellTec No. 1 (INCI: Phytol (and) Isomalt (and) Aqua/Water), a moss-derived anti-aging ingredient.
The ingredient works by stimulating the transportation capacity of the nuclear pore complex, which contains the cell's DNA and regulates cellular processes. By supporting the quick transport of molecules in and out of the cell nucleus, MossCellTec No. 1 supports rapid production of new proteins and quick adaptation to environmental changes.
In addition, the ingredient reportedly improves skin moisture, provides added defense against pollutants and improves the complexion. MossCellTec No. 1 comprises 3.3% Physcomitrella patens protonema culture and is recommended to be applied at a level of 2% in skin care products.
The biotechnology production process grows moss cells as a culture within a lab, allowing for a sustainable supply that doesn't risk the heavy metal levels often found in nature. According to Mibelle Biochemistry, in vitro studies have shown that MossCellTec No.1 improves expression of cell nucleus health markers in aged cells and helps skin adapt to climatic changes.
In a placebo controlled clinical study with women that are exposed to daily temperature changes in the summer, MossCellTec No.1 "significantly improved" skin hydration, barrier and homogeneity after two weeks.
2. Arctic-inspired Anti-aging
Lipotrue presented Arctalis (INCI: Pseudoalteromonas ferment extract), a new marine-derived anti-aging ingredient, at in-cosmetics Global. The material is based on a marine microorganism found 2,700 m beneath the ocean near Greenland, a region in which the Aurora Borealis is visible.
Arctalis is rich in exopolysaccharides, which have film-forming properties and therefore promotes the decreased appearance of wrinkles by acting on the extra cellular matrix. The material's desmoglein-3 content improves barrier function.
The film-forming effect is visible within one hour, with deeper results coming after seven days, according to the company. The ingredient also boosts blue light defensive capabilities, thereby reducing MMP1 levels.
The ingredient is water soluble and recommended to be used at levels of 2% in formulations.
3. New Anti-aging Material Coming Soon
Lipotrue is preparing to unveil Munapsys, a pre- and post-synaptic peptide that reportedly has strong activity against wrinkles, particularly in comparison with some technologies currently on the market. In vivo and in vitro tests will be released soon.
4. Plant-based Anti-aging
Beauté by Roquette presented a range of products, including plant-based polyhydroxyacid (PHA) for anti-aging and anti-acne activity in skin care products.
5. Customized Anti-aging
Merck KGaA, Darmstadt, Germany, is preparing for the future of customized beauty, in anti-aging and beyond. By leveraging a flexible portfolio of multifunctional ingredients, formulators and brands can address customization and on-demand beauty on a larger scale.
The company put this concept into action at its Active Solutions station at in-cosmetics Global. Using a short questionnaire, visitors were able to choose from a range of new innovations and natural ingredients for specific anti-aging and skin care needs, including moisturization.
The company's booth highlighted its RonaCare Cyclopeptide-5 alcohol-free homodetic cyclic peptide for cosmetics. The material reportedly mimics the natural processes of skin communication and repair to stimulate anti-aging properties.
6. Rapid Anti-aging
BASF's Replexium is a skin-bioavailable complex of two patented peptides that target key proteoglycans—lumican and syndecan-1—and collagen XVII, which are responsible for the skin's biomechanical properties and typically decrease with age.
Per the company's in vitro studies, Replexium increases the synthesis of lumican, syndecan-1, and collagen types I and XVII. Clinical studies have shown the complex's ability to decrease the appearance of fine lines and wrinkles.
According to the clinical results, the appearance of fine lines and wrinkles among study participants was reduced by 11% after three weeks and 23% after eight weeks. The complex also reportedly improved dermal density by 21% within three weeks, which BASF says is "significantly faster than a peptide-benchmark."
7. Recontouring from the Inside Out
BASF's RNAge rebalances Let-7b—the microRNA that downregulates the production of proteins that are critical to building dermal architecture—and therefore helps the dermis to remain dense and to firm the facial shape by rebuilding it from within.
The material, which is extracted from sea buckthorn, is China-compliant and COSMOS-approved.
8. Sustainable Anti-aging
Borealine Expert (INCI: Glycerin (and) Acer Rubrum Extract), from IFF Lucas Meyer Cosmetics/LMC – BioForeXtra is derived from maple tree bark discarded by the lumber industry.
The polyphenol-rich antioxidant technology offers anti-wrinkle and anti-aging activity by boosting collagen and elastin to improve skin firmness and elasticity.
9. Sustainable Dermal Filler Alternative
Givaudan Active Beauty presented its PrimalHyal Ultrafiller, a cosmetic alternative to dermal fillers based on a new sustainable hyaluronic acid derivative. According to the company, PrimalHyal Ultrafiller topical hyaluronic acid acts as an aesthetic filler by penetrating deeply into the skin and filling wrinkles, while stimulating the skin's anti-pollution defenses.
Givaudan's clinical research found that, with a single application, the ingredient fills small wrinkles (-8.7%) in 60 minutes, with further improvement in six hours. After one to two months it reduces the appearance of nasogenian wrinkles by 13% and improves skin texture for 77% of the volunteers.
PrimalHyal Ultrafiller reportedly reactivates the metabolism of aged skin cells to restore the antioxidant skin defenses by as much as 34% against UV damage and pollution. Givaudan demonstrated the technology in the S3D Pro'Fill "time-reversing filler," which was inspired by clinical formulations used during the evaluations of the ingredient. The filler creates an immediate blur effect.
10. Trapping the Agents of Aging
Dow'sAgeCap Smooth cosmetic ingredient is designed to offer protection from environmental factors such as sun, pollution and smoking by selectively trapping reactive oxygen species before damage occurs.
The technology reportedly softens the appearance of wrinkles, delivers a skin smoothing effect, boosts radiance, and offers good photo- and thermal stability in applications such as facial care, serums, leave-on skin care, eye serums and color cosmetics.