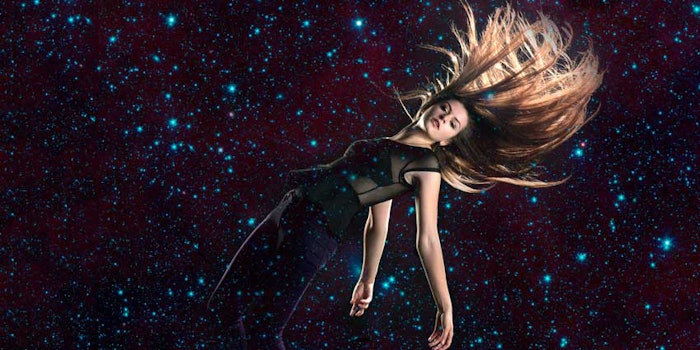 The confluence of spirituality, wellness, and the beauty industry spans critical industry trends, including clean beauty, wellness, and even the rise of CBD and cannabis products a. Here, author Jeannie Joshi discusses some of the main drivers and its implications for brand innovation. -Editor
The consumer is redefining happy, healthy lifestyles, which increasingly include a spiritual bent. The beauty and personal care industry will therefore have to rethink how these practices fit into their innovation, marketing and retail strategies. 
How big is the opportunity? The global organic personal care market is forecast to reach $16 billion by 2020, according to research from Grand View Research, while mind-body/spiritual spending reaching $390 billion in 2015-2016 and wellness at $3.7 trillionb. 

From the aesthetics of our biology to the tone of skin tissues, spiritual and mindful beauty are an overlooked area of modern culture. For many, these concepts seem "woo woo," intangible and cosmic. They feel fringe. 
This research report addresses a fundamental question: how might spirituality contribute meaningfully to beauty and wellness? How might we mitigate barriers between beauty and the transcendent? 
I propose a shift in perspective, an enlightened approach, spiritualizing personal beauty vis-à-vis the mystical forces of elemental nature—natural energy that is heartfelt and humane—with less attention paid to the external and more to the internal.
Mind, energy and—most importantly—spirit can usher in a new era of spiritual beauty, where meditation, nurturing self-care and connectedness help practitioners and brands become the best version of themselves.
A Holistic Revolution
According to a 2019 report from the American Society of Plastic Surgeons, "Americans spent more than $16.5 billion on cosmetic plastic surgery and minimally invasive procedures in 2018c."  These include procedures such as Botox injections, breast implants, buttock lifts and nose jobs. 
However, consumers today are turning to natural alternatives for looking young, preceding invasive cosmetic procedures. Spiritual spending is growing in importance with solutions and treatments infused with ancient practices, precious stones, potions, tonics and astrology. 
In recent years, new skin and personal care brands have emerged, enabling consumers to prioritize personal improvement as opposed to materialistic beauty, causing many to abandon old beauty fixers like Botox and plastic surgery. 
Mother Nature Inspiration
Consumers are looking to slow down and increasingly welcome all things supernatural: Wicca, crystals and gems, plant stories, potions, pagan traditions and astrology. Why is this happening now? 
In a recent story by Rachel Syme in The New Yorkerd, the author sought to explain the rising resurgence in the popularity of crystals, and by extension the broader embrace of ancient belief systems and practices: "In an age when people with brains burned out on digital devices crave physical talismans, crystals seem to promise wisdom from the core of the earth. Also: they're pretty."
As beauty brands look to Mother Nature and spirituality for inspiration; a unique wave of products and treatments claim powers of the supernatural, giving emergence to retail experiences, products, and services in support of the metaphysical.
Gemstone concepts
Precious Skin Elixirs, a new range of next-level skin care "powered by the earth pure botanicals and gem energy," features products named after specific precious gems: Moonstone Rejuvenating Serum, Rose Quartz Botanical Mist, Peridot Cleansing Balm, 24 Karat Gold Luxe Restorative Balm and Onyx Purity Mask.
Although these products don't include the actual gems, their names set out to channel the stones' characteristics, as seen in the Amethyst Harmony Elixir, which refers to the gem's calming properties. Each formula claims to work in synergy with the skin's natural rhythm of renewal.
Astrology
Selfridges has partnered with New Age blog The Numinous in the past to introduce its Astrolounge, featuring palm readings, crystal massages, tarot cards, cosmic gifts and jewelry. Accordingly, the department store's holiday window displays were an ode to the 12 signs of the zodiac.
Moon culture
The moon and its phases, with its supernatural rhythms and spellbinding effect on the earth's elements and our bodies' energy fields, will continue to be an area of mystery and fascination for many consumers. As a result, cosmic tastemakers are reveling at ritualistic full moon sound baths and new moon ceremonies with guided moon rituals. 
In the spiritual beauty tradition, a full moon boosts hair growth, while the phases of the waning moon dictate relaxation and balance. In Brazil, it's common practice for women to cut their hair according to the moon phases. The myth of this practice claims that reaching one's highest potential is most attainable during the full moon. Products and services that aid this journey will therefore be attractive to many consumers. 
Indeed, moon concepts are already widely seen in beauty. 
"I created Moon Juice for people interested in a new way of living, not a way where you have to erase your past, but a way fueled by excitement to help yourself live better, here and now," said Amanda Chantal Bacon, founder, Moon Juicee. "Moon Juice is a cosmic beacon for those seeking out beauty, wellness, and longevity."
Products like Glossier's Moon Mask and Mega Greens Galaxy Pack feature spiritual themes. Similarly, Moon Bath taps into the ancient ritual of Ayurveda with integrated bathing rituals to restore balance and vitality with bath products such as handcrafted Botanical Bath Teas, Face Mask and Mist, Infused Salt, and Sacred Smoke aromatherapy. 
Crystal Cactus' New Moon Oil was created to be used during the week of the Full Moon to support new beginnings. Also, Poppy & Someday's Moon Mist is infused with tourmaline crystal to help calm the mind and clear surrounding negativity. 
Celestial beauty had a moment at the recent Indie Beauty Expo 2019 in NYC. Moon Mother Hemp, for example, harnesses the energy of the moon phases by timing its production, planting and harvesting with the lunar phase energy to maximize the medicinal properties of the hemp plants. Oil infusions begin on the new moon and decanting on the second full moon.
"These are ancient traditions that are time tested and proven and women of the earth have been making remedies by the moon phases always!" said Jessica Bates, founder and CEO.
Supernatural Brews
Crystals, spiritual books, unique tonics have long existed, but it's only recently that the transcendent, mystical and cosmic have gone mainstream. 
Makeup brand Rituel de Fille, founded by three sisters, offers "beauty inspired by the magical side of natural ingredients, where pigment is elemental, ceremonial and powerful." Collections include Written in Blood, a bright red, and Hex, a baby pink.
Other products that invest in the magical, are Catbird's Love Potion, a blend of wild roses and hawthorn blossoms to set the intention for love. Fat and the Moon's herbalist formulated Dream Weaver Mist, a mix of a mugwort distillation made from wild mugwort, homemade lavender hydrosol and essential oils.  
Holistic Beauty: Karma, Ayurveda and Beyond
The era of holistic everything is all about a total mind, body and spiritual beauty transformation. It's all about living a more rounded, healthy, and happy lifestyle. Most importantly, it's about reconnecting with what is right, beautiful and spiritual. 
This concept can be seen in Rituals' Karma collection of bath, body, and home products, which promote the Hindu belief that living with positive intent attracts positive energy.
Anda Skincare, which was showcased at the recent Indie Beauty Expo, draws its name from the Swedish word for breath. The brand is inspired by spas and organic ingredients and offers a "cleansing breath for skin and soul." The brand's ethos infuses natural, organic, vegan, cruelty-free and recyclable qualities into its products.
Integrative mental wellness approaches will increasingly turn up in wellness spas and retreats, combining psychotherapy and neuroscience. Examples include meditation studios and mindfulness programs at hotels, schools, hospitals, corporations and perhaps even government facilities. 
For example, at the Hotel Café Royal Akasha spa in London, a cognitive therapist joins with health and wellness specialists to provide services in nutrition and reiki. Similarly, The Benjamin hotel in New York created a first of its kind doctor-created "Rest & Renew" on-demand mindfulness program for its guestsf. 
The industry can expect to see concepts of beauty and attractiveness unite looking beautiful and feeling beautiful in enlightened ways, including the right balance apothecary and spirituality. Designers are also going to be exploring the power of visual calm through design for spaces and objects, stripping back abstraction and drawing focus to texture, experience and emotion. This reflects consumers' broader rejection of one-size-fits-all lifestyle strategies or products.
As seen above this approach will require brands and retailers to pay homage to ancient traditions and cutting-edge science, from Wicca, shamanism, astrology, Ayurveda, potion-making and spellbinding to DNA testing and microbiome research. In this way, beauty and wellness will look back to look ahead. 
As the beauty industry continues its shapeshifting, 2020 will see the world prepared to enter a heightened state of spiritualized wellness and personalized beauty with the potential to be wholly bespoke.
The Future
What lies ahead? Mindfulness and adventure. A greater brain-beauty connection. 
A key area of interest will be neuroaesthetics that harness the connection between the mind and the perception of beauty. To illustrate, Anjan Chatterjee's book, "The Aesthetic Brain: How We Evolved to Desire Beauty and Enjoy Art," makes a case for why we all are on a quest for beauty: "Beauty brings our happiness." 
In this way, the latest scientific insight—informed by ancient traditions—will create new experiences and innovation opportunities for consumers and brands. 
Jeannie Joshi (jeannie@jeanniejoshi.com) specializes both in niche marketing and mass marketing with a niche appeal. Growing up in India, Africa and the United States, educated in digital design as well as traditional art, Joshi has a mission to make the world more beautiful and give products both old and new a "numinous" glow that will attract consumers in store, online and anywhere there's a cell phone tower in the vicinity.
Footnotes:
aChia Longman, "Women's Circles and the Rise of the New Feminine: Reclaiming Sisterhood, Spirituality, and Wellbeing," Religions 2018, 9, 9; www.mdpi.com/journal/religions
bGrand View Research www.grandviewresearch.com/ 
c"Americans Spent More than $16.5 Billion on Cosmetic Plastic Surgery in 2018," www.plasticsurgery.org/
d"Crystals' Resurgence in the Self-Care Age," www.newyorker.com/culture/screening-room/crystals-resurgence-in-the-self-care-age
ehttps://moonjuice.com/pages/our-story
f"The Future is Mental Wellness," www.globalwellnesssummit.com/2017-global-wellness-trends/the-future-is-mental-wellness/