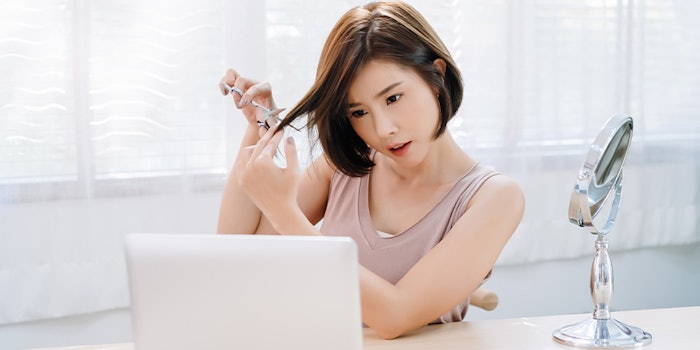 The pandemic has forced consumers to take their personal image into their own hands, creating a huge opportunity for the health and beauty industry to connect to new customers.
A recent study of more than 1,500 people globally by insight agency BAMM revealed that with people cut off from beloved salons, barbers, waxers and aestheticians, consumers are taking the time to address deeper issues of self.
As people turn inward, the "power of the pause" has led to a newfound sense of self-reliance in their approach to personal care.
Lockdown Trends Manifest Differently
On one hand there are those people who slowed down during the pandemic. We've observed a stripping back to minimalistic beauty ideals: asense of skin care mindfulness over makeup, using only the purest of necessities.
There are also those who are going all out through loud, bold and playful experimentation with their identities, changing hairstyles and wearing maximalist makeup.
Twenty-one percent of BAMM's survey respondents bought makeup and 30% bought personal care items for the first time during lockdown, with the majority of them planning to continue post-pandemic.This presents real scope for brands to speak to consumers with shifting priorities, renewed interest in at-home products and an e-commerce-oriented way of spending.
Stripping Back
Seeing ourselves bare again has been enlightening. Pandemic-era grooming with a "less is more" mindset is about cutting back on "unnecessary" products and allowing nature to take its course,despite what pressure-fueled beauty standards typically expect of us.
People are increasingly skeptical about the industry's intentions, which they feel capitalizes on insecurities, with well-being influencers fueling unattainable aspirations. Instead, we're gravitating toward "simpler" forms of well-being. Seventy-nine percent of people we spoke to agreed that in most cases, simple solutions to looking after yourself are better than new well-being trends.
The study also revealed that people are "rediscovering their skin" by stripping complex multi-step beauty regimes right back. Embracing life sans makeup, chemicals, dyes and polishes might prove that skin, hair and nails are better off in the long run.
This mindset is likely to endure even as lifestyles shift back to normal. It doesn't mean fewer products, but rather a shift toward "clean," "necessary" beauty products that "really work." They aren't about covering up, but embracing self-love and self-acceptance.
The recent launch, and immediate sell-out, of Pharrell William's all-gender, clean skin care lineHumanrace is testament.
Swapping makeup routines for skin care regimes, we're likely to see a continued demand for one-step SPF-makeup hybrids, all-in-one-serums and stripped-back skin care products that are unisex and fragrance-free with minimal routines.
DIY and Experimental Identities
While some strip back, others are discovering a sense of empowerment that comes with self-reliance and resilience.
On average, we found 55% of women felt that self-resilience became more important this year. Vogue Business reported spikes in annual sales growth of "at-home spa tools and serums." At-home hair dying and hair cuts were attempted en masse to varying degrees of success, and we've learned to remove nails with floss.
As people embrace self-reliance, time spent by themselves has spawned a renewed and playful interest in identities and how they are expressed to the world. Growing a beard, growing out shorter hair or changing hair color a few times, was made easier with hashtags like #hairdyehack on Tik Tok. This exploration of identity even extends to include our online selves.
Beyond hair, we see loud, experimental makeup as an antidote to wearing less makeup overall, to alleviate boredom, flex creative muscles and learn new skills. Maximalist mood-boosting makeup and extravagant nail art is emerging as a pick-me-up and feel-good motivator.
This is amplified largely by social media, which not only allows beauty influencers to spearhead a trend for maximalist "more is more" makeup, but provides an endless stream of easy-to-achieve DIY makeup hacks, giving much-needed inspiration and a sense of connection to people stuck at home.
Brands and beauty experts have transformed into supportive friends, making themselves more available to customers and followers as they navigate the DIY landscape. Through Instagram Lives and chats, they respond directly to questions and offer virtual one-on-one consultations. Facetime has also allowed hairdressers to help with botched dye jobs (and just catch up with clients!).
DIY's Staying Power
Quite simply, people want to feel good. Navigating the demands of working from home, we see a consumer base looking to create indulgent and experimental self-care moments that help to delineate work from life.
With the advantage of trusted professional guidance,there's no doubt consumers will return to the salon when they can. However, as lockdown restrictions continue to fluctuate (causing anxiety around close contact), and with newfound self-reliance causing consumers to reset their approach to self-care, lockdown regimens are likely to stick around.
The future will be a hybrid balance between the use of professionals and getting the job done ourselves. Spending less time at salons allows people to spend more on at-home products. As consumers attempt to mimic a trip to the salon, they'll expect a heightened, premiumized home salon experience.
For personal care brands, being available and catering to home experimentation (through accessible e-commerce channels) is now a table stake. While reactionary product launches might be tricky as offices toggle working from home, product development needs to remain a step ahead. Brands need to be ambitious in premiumizing the DIY offering, addressing appetite for change in relation to our looks.
Finally, brands have the opportunity to speak to and support the idea of self-reliance. Now that people know it's possible, it's likely that virtual services will continue beyond lockdown. This will allow brands to offer an enhancement to the face-to-face service, ultimately taking on the role of supportive friend and building stronger emotional connections with consumers.