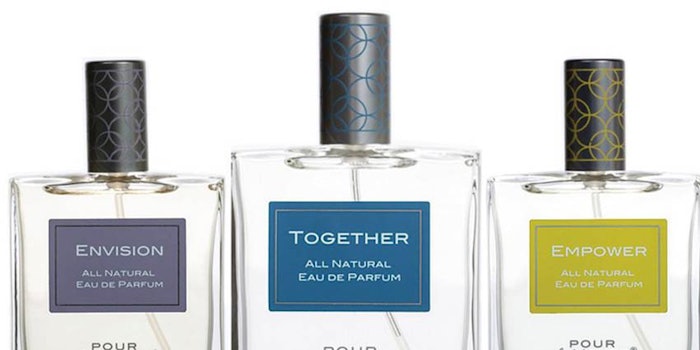 Every brand has a story. Pour le Monde certified 100% natural fine fragrances were launched in 2013, but the concept was conceived a few years prior, during my maternity leave. After being advised by my doctor to refrain from wearing perfume while pregnant (because of certain ingredients in them), I reflected on how few natural alternatives were in the marketplace.
My choices were aromatherapeutic scents or single-noted oils, when all I yearned for was a beautiful perfume free of synthetic materials. Seeing an opportunity and feeling entrepreneurial, I met with several fragrance houses who said that constructing a 100% natural eau de parfum, let alone three, would be next to impossible. But I knew a market was there for luxury natural scents, so I persevered and found a small house that admired my passion and took me on as a client.
As anyone involved in the green beauty world will tell you, there's a lot of trial and error involved, which is why some natural brands still have to compromise and use a small portion of synthetic ingredients.
Find the White Space
At the time of Pour le Monde's development, there was a lot of empty space in the green beauty world. Now, due to widespread consumer awareness of personal care ingredients and the demand for "clean" products, many brands are getting on the green beauty bandwagon. However, not all green brands are equal and, because of lack of regulation of the word "natural," greenwashing is prevalent.
Green bloggers have become the watchdogs and authority figures on product approval, amassing thousands of followers on social media. For example, a recent Facebook posting by an irate consumer railed about a "natural" lipstick from a supposedly green-beauty-only store that contained propylene glycol. Upset that the product hadn't been properly vetted, she blasted the retailer and the brand publicly for deeming themselves all-natural.
You cannot risk your reputation with today's savvy consumer, and I'm glad I was adamant about formulating Pour le Monde's fragrances in accordance with the Natural Products Association guidelines. If you are going to do natural, do it right or don't do it at all.
It's Not Easy Being Green
And doing it right is difficult. You cannot take a synthetic product, replace its constituent components with naturals and expect the same results. Ingredient sourcing, formulation, expense and efficacy are big hurdles.
Skin care, for example, has its challenges because the natural surfactants tend not to be as effective as synthetic surfactants because water and oil have a hard time playing together. On the fragrance side, artificial musk is almost always used as a base; duplicating a natural musk is next to impossible, trust me. Even soy candles are put to the test because of the longevity issues of essential oils and the need for paraffin to burn and throw the fragrance more effectively.
Due to these obstacles, natural creations require a lot more synergy between the formulators and the contract manufactures than with traditional lab-created synthetic ingredients. Stability testing is crucial as naturals are constantly changing from crop variations, color alterations, nuance differences, smell changes, etc.
As anyone involved in the green beauty world will tell you, there's a lot of trial and error involved, which is why some natural brands still have to compromise and use a small portion of synthetic ingredients.
Set Yourself Apart
For brands entering this space, you really need to set yourself apart from the rest. Recently, a retail buyer told me she was tired of seeing natural skin care in brown glass bottles as it causes confusion for her customers.
She cited how the Tata Harper line, with its bright green glass and Vermont story, differentiates them in a now crowded field. As natural marketers, we work so hard to make that perfect natural formula while keeping the design and cartons just as clean. Retailers want a brand with the full package—inside and out—to fit into their white space.
Now Tell Your Story
Retailers also want a story, and so does the customer. Pour le Monde is currently the only certified 100% natural fine fragrances on the market. We're also certified animal cruelty free and vegan by Leaping Bunny and PETA, and each one of our scents benefits a different charity.
Our elegant scents work with each individual's body chemistry and were designed to reflect moods, occasions and lifestyles. From work to play to romance to beach days to your wedding day, our mission is to offer consumers a safe, natural perfume wardrobe without compromise.
Green beauty is not a trend; it is a fast-growing movement that every marketer should not ignore. It is also multi-generational consumers who is well versed or wants to be educated on what they are putting on their skin, what they are inhaling and which companies are conscious of their ingredients.
Transparency is paramount. At Pour le Monde, we worked tirelessly to create stellar certified 100% natural products while doing good for the world. I wouldn't have it any other way. 
Wendi Berger ([email protected]) is the president and founder of Pour le Monde Parfums.