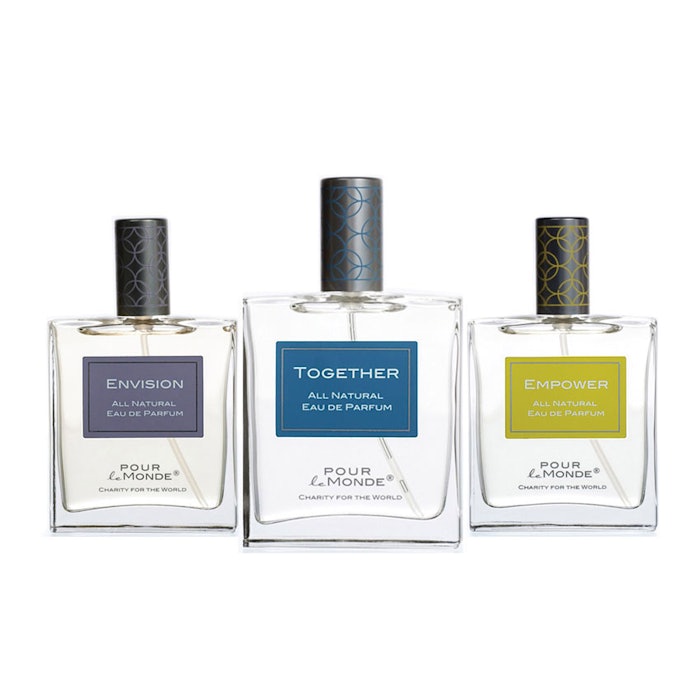 What it is: Pour le Monde Parfums Collection
Claims: Pour le Monde Parfums are the only certified 100% natural prestige fragrances in the world. The collection is complex, diverse and sophisticated, allowing users to indulge in the luxury of natural, non-toxic scents that last and radiate elegance. From blooming florals to fragrant fruits, each scent is masterfully crafted with the highest grade of essential oils to bring a remarkable experience that awakens emotion and uplifts the spirit. Each eau de parfum in the Pour le Monde Parfums collection also benefits a correlating charity.
Further reading: What is Indie Beauty?
Ingredient Highlights: Free of harmful chemicals, such as phthalates, petrochemicals, synthetic fragrances and dyes. Animal cruelty-free, vegan and certified by the Natural Products Association.
Collection highlights: 
Empower: Unisex, sporty, invigorating, refreshing
Category: Citrus
Top: Exquisite citruses from all over the world: lemon, lime, bergamot, orange, mandarin grapefruit 
Middle: Spearmint, cassis, basil, lemongrass, orange flower
Base: Cedar wood, benzoin (naturally derived), patchouli (just a drop) 
Charity: 10% supports Guiding Eyes for the Blind/Heeling Autism
 

Together: Feminine, classic, graceful, flirtatious
Category: Floral
Top: Lemon and bergamot (the citrus brings out the florals in the heart)
Middle: Jasmine, violet, freesia, lilac (for a wonderful bouquet)
Base: Woodsy blends, vanilla, balsam and a small touch of patchouli
Charity: 10% benefits the Cancer Support Community
 

Envision: Exotic, sensual, spicy, gourmand
Category: Oriental
Top: Bergamot, orange, lime, grapefruit, pink peppercorn (the spice shakes up the citrus) Middle:  Lavender, palma rosa, Egyptian geranium rose (soothing and sensual)
Base: Patchouli, blend of woods, Madagascar vanilla (gives it warmth and power)
Charity: 10% helps the National Multiple Sclerosis Society