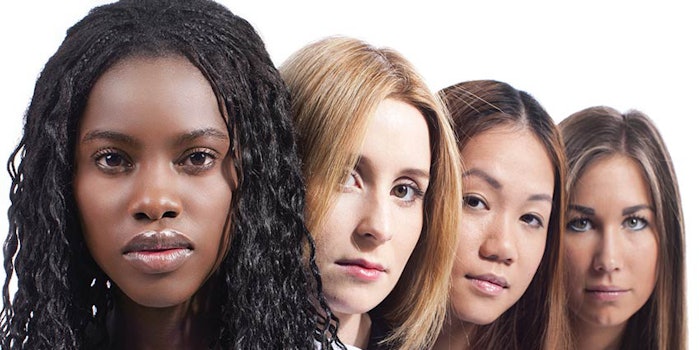 So many aspects of our lives are customized for us, but our skin care is not. Why? Designer clothes are tailored to fit one's body, thus enabling an outfit to sit perfectly on the wearer's frame to accentuate his or her best attributes, while simultaneously obscuring unflattering characteristics.
On the other hand, off-the-rack clothes might not be the perfect size for the wearer, and unflattering characteristics may not be disguised. These same principles hold true in skin care.
Challenges to Access
In the skin care industry, dermatologists and plastic surgeons prescribe customized skin care routines for their patients. Often, several products are suggested to solve multiple skin care concerns for one consumer.
However, consumers must frequently wait weeks or months to obtain an appointment with a dermatologist to get solutions. For some, the luxury to meet with a professional at all is unattainable. But that doesn't mean customized skin care has to remain out of reach.
Making Personalized Skin Care Attainable
Personalized skin care incorporates the top skin concerns for a culture and/or ethnic group, allowing consumers to feel comfortable that a product's contents can and will solve their specific issues. In order for consumers to achieve a custom skin care regimen and find the correct product to fit their concerns, they must assess three vital contributions of the product.
1. Does it Fit My Problems and Concerns?
Different skin types behave in different ways. Scientific studies have shown that those with lighter skin tones tend to develop wrinkles earlier than those with darker skin because of different levels of elasticity.* Though the appearance of wrinkles is delayed in darker skin, they can appear as deeper folds, whereas lighter skin is prone to fine lines.
Lighter skin lacks elasticity, and therefore those with fair skin tend to face wrinkles and sagging skin at an earlier age than those with dark skin. Though Caucasians might experience this before African Americans, the end result is the same: Over time, skin loses its elasticity and begins to sag. 
Cultural influence impacts desired skin characteristics of consumers.
Because of the higher concentration of melanin, those with darker skin struggle more with hyperpigmentation and uneven skin tone, while those with lower melanin concentration are prone to suffer from skin blotching or redness.
Sweat and oil production are affected by skin tone as well. Although acne and breakouts affect all skin types, people with darker skin are more prone to them. This is because darker skin produces more sweat and oil due to larger and more numerous sudoriferous and sebaceous glands.
Skin tone even affects skin's ability to retain water—the so-called transepidermal water loss, which describes the skin's barrier function and the total amount of water vapor loss through the skin under non-sweating conditions. Studies have shown that darker skin does not retain as much water as lighter skin and is prone to ashing.** Lighter skin, on the other hand, does not produce as much oil as darker skin, which results in dry skin.
Turmeric, a classic culinary ingredient, is excellent for evening out skin tone.
Even irritation is affected by skin type. Those with light skin are shown to be less susceptible to irritation than those with darker skin, but those with darker skin might also be prone to irritation due to increased sweat production. Studies have also found that people with Asian origins are most likely to show signs of irritation.
Addressing these differences in skin types is the first step in making skin care products that can truly benefit an array of skin types. Instead of focusing on vague or broad skin problems such as "dry" or "oily" skin, we should focus on the variety of difficulties in different skin types. By tracing these difficulties back to the origins of certain skin types, we can find the right solution.
2. Does My Regimen Embrace My Heritage and Culture?
Cultural influence impacts desired skin characteristics of consumers. For example, in Asia, including India, the goal is to brighten the skin. The concept of bleaching the skin began centuries ago and is still utilized today.
Therefore, many contemporary Asians utilize products that contain brightening/whitening ingredients to lighten the skin. This same idea is apparently widespread across all cultures. For many consumers, the goal is to uphold their heritage and to care for their skin accordingly.
3. What Are the Ingredients and How Do They Benefit My Skin?
Each region of the world has its own stories about achieving beautiful skin, from the tip of Africa to the northern shores of Asia. Each culture sources and uses native ingredients to address its unique skin concerns. These ingredients are another key to developing beneficial, targeted skin care.
Nordic cloudberries are super fruits that grow in a part of the world where the sun doesn't set in the summer. They are often pressed for the seed oil, which contains high amounts of omega-6 and omega-3 fatty acids, vitamins A and E, and plant steroids, all of which are essential for keeping the skin barrier intact and in good condition. For this reason, the pressed seed oil is often incorporated into skin creams.
Instead of creating a product for only one or two types of individuals, we should seek to help an array of people with unique problems.
Mimosa tenuiflora grows in southern Mexico and Brazil and helps to promote younger-looking skin. The Aztecs used the plant to heal cuts and burns and keep their skin supple. Mimosa has been shown to boost collagen and has amazing healing properties—particularly in restoring damaged epidermis via regeneration—so it's the ultimate anti-aging, moisturizing and healing cream.
Turmeric, a classic culinary ingredient, is excellent for evening out skin tone. It also helps to fight acne and has anti-inflammatory, antiseptic and detoxifying properties. Turmeric is also used to soften the skin and give it radiance.
Indian gooseberry helps to heal blemishes, brighten and firm skin, and reduce pigmentation and free radical damage.
These ingredients, which have been found by tradition and science to help alleviate the challenges of certain skin types, were discovered by the beauty industry by tracing skin difficulties back to their areas of origin.
Many Benefits, Many Women
Formulating skin care products that are tailored to many different kinds of women not only benefits them cosmetically, but also helps to address and embrace their amazing diversity. Many skin care companies only cater to one or two categories of individuals, which leaves the other groups feeling alienated or even ashamed of themselves and their roots.
Instead of creating a product for only one or two types of individuals, we should seek to help an array of people with unique problems. By doing this, we can create a solution that will not only help an array of people overcome their unique challenges, but will also help them to embrace their own heritage and diversity.
*NA Vashi, M Buainain de Castro Maymone and RV Kundu, Aging Differences in Ethnic Skin. J Clin Aesthet Dermatol, 9(1), 31–38 (2016)
**L Feng and S Hawkins, Reduction of "Ashiness" in Skin of Color with a Lipid-rich Moisturizing Body Wash. J Clin Aesthet Dermatol, 4(3): 41–44 (2011)
Tanaha Hairston is the CEO & Founder of Blended Skincare. She hosts the weekly Blended TV, where she shares how to better beauty both internally and externally, often sharing simplified tips from the best dermatologists and her professional entrepreneurship education. Hairston holds a BSc in Computer Science and Engineering from Arizona State University (ASU) and MBA from Thunderbird School of Global Management, Her philanthropic efforts include educating high school and college students on the importance of business, science and engineering programs, as well utilizing Blended Skincare to help women empowerment charities.