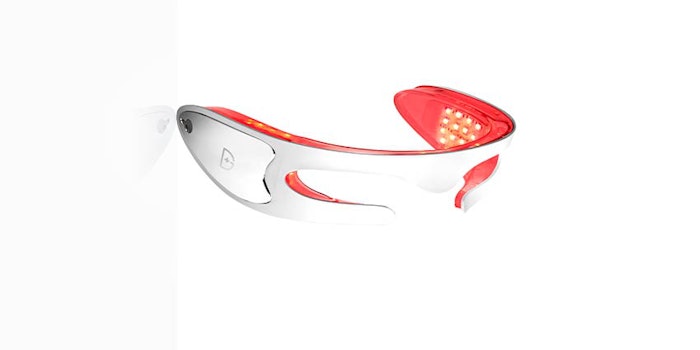 The dermatology devices market is projected to grow from an estimated $8.66 billion in 2016 to $16.05 billion by 2022, according to data gathered by Scalar Market Research. The expansion of the market has created opportunities for at-home devices, as seen with the widespread TV advertising centered on the Neutrogena Light Therapy Acne Mask. 
The Eyes Have It
Recently, Dr. Dennis Gross Skincare launched its SpectraLite EyeCare Pro LED Device for at-home use. Retailing for $159, the FDA-cleared anti-aging device provides professional-quality light therapy via 72 LEDs that comprise full-spectrum therapeutic light for the reduction of fine lines and wrinkles, as well as the diminished appearance of dark under-eye circles.
Each hands-free treatment takes about three minutes, satisfying consumers' increasing demand for quick, convenient beauty solutions. The mask includes a USB charging cord and a detachable, adjustable head strap to accommodate various head and facial dimensions.
Jessica Abrams, director of product development for Dr. Dennis Gross Skincare, recently told Global Cosmetic Industry that Dr. Gross derives insights from his clinics, where LED therapy is among the top treatments.
According to Kline Group data, LED therapy is also the leading beauty technology used by consumers in the home. Yet, while most LED masks and devices focus on the whole face, Dr. Gross and Abrams identified an opportunity to focus on the eye area, where facial aging first begins to show.
Easy, Convenient and Effective
Abrams and Dr. Gross knew the device they were developing needed to deliver convenience and efficacy in the home, while addressing the two main zones of eye area aging: crow's feet and the 11s between the brows.
Understanding that even the best technology can sometimes be cumbersome and unpleasant to use, Abrams and Dr. Gross also focused on the consumer experience.
The mask's dimensions were tweaked to ensure standard distance between the lights and the face.
For instance, they knew that most current devices suffered from lengthy treatment times, often requiring the user to hold the device by hand and move it from treatment region to treatment region. Abrams explained that, for eyes, most devices often require three separate phases of each treatment: one for each eye and another for the 11s.
Consumers also expect quick results, so Abrams and Dr. Gross selected four LED light wavelengths to simultaneously address various depths of the skin. The shallowest segment of the treatment can show cosmetic improvements in just a few weeks, while collagen builds up in the deeper layers of tissue over several months.
Beyond the strap, which allows the mask to fit comfortably on faces of various sizes, the LED device comprises a silicone interior for maximum comfort. In addition, the mask dimensions were tweaked to ensure standard distance between the lights and the face.
Meet the LED Device Consumer
The ideal consumer for the LED mask is, of course, anyone looking to diminish the signs of aging around the eyes, but by creating a hands-free, single-phase, Instagrammable mask, Dr. Gross and Abrams tapped into the demands of older and younger consumers alike, as well as men.
Claims will become more powerful and that devices will promise ever-faster results.
Abrams noted that while men buy just a portion of the brand's masks, it is likely that women may be purchasing the mask for their husbands and boyfriends, or even share their masks with their significant others.
While the SpectraLite EyeCare Pro LED Device is modestly priced relative to some other LED devices, the product still sits firmly in the prestige space. Higher-end consumers, who may also be clients of Dr. Gross' clinics, might use the device for maintenance between treatments, while others may use the mask as a primary component of their at-home ritual, said Abrams.
Measuring Success
In order for a mask to prove its worth, it must deliver results beyond those provided by topical products, said Abrams. In fact, she explained, the mask can actually enhance the penetration of the topicals used after LED treatment.
The device must also offer convenience, Abrams reiterated. As a result, the LED mask offers a short treatment time, is wearable and is easily incorporated into consumers' daily routines, helping to prevent product abandonment. Finally, she said, the LED mask has a "cool factor," making it ideal for Instagram selfies.
Retail Rollout
As of press time, the SpectraLite EyeCare Pro LED Device is exclusive to Sephora.com, but will eventually roll out to brick and mortar stores, the spa channel and global retailers.
What's Next in Devices?
While current product development focuses on efficacy, ease of use and prevention of device abandonment, Abrams explained that future iterations could prompt consumers regarding aspects of their beauty routines or even offer insights on products. She added that claims will become more powerful and that devices will promise ever-faster results.
As wearable technology expands, other sectors could see activity, including in the hair health and regrowth areas. Devices may also become more directly tied to specific topicals, creating new synergies within treatments and new functionality, as well as opportunities for brands to drive product sales.