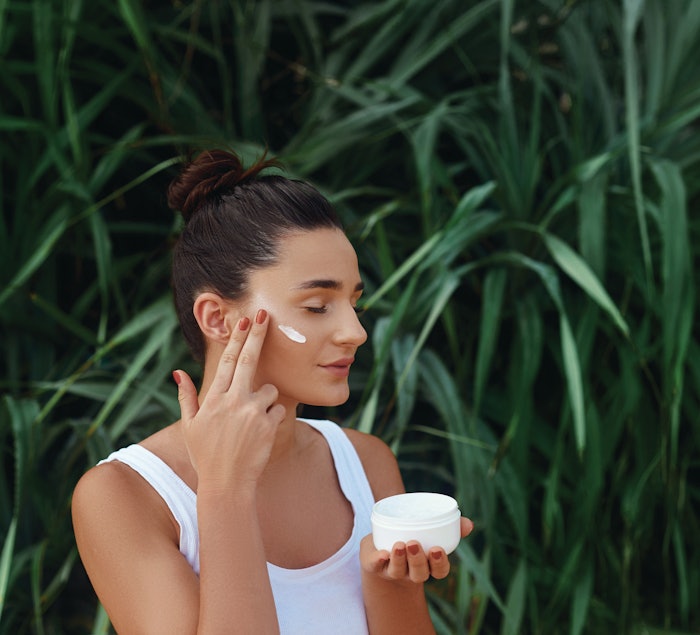 It's well past time to face it: Gone are the days of the quickly antiquating terms "anti-aging" or "natural" serving as enough to draw in a new consumer toward a skin care offering. Today's savvy consumers seek specificity in personal care. They pursue products that reflect how they feel about their values, their role in improving the world and, ultimately, how they see themselves. We can expect to see the five following emerging trends continue to grow in skin care—and our experts from consumer insight and trend forecasting company Fashion Snoops explain why.
1. Marine-Derived Skin Care
"As movements like blue beauty and ocean conservation continue to impact the beauty industry, we see a range of marine-derived ingredients used across categories, from skin care, makeup and hair formulations," says Fashion Snoops vice president and creative director of beauty and wellness Melissa Hago. "While ingredients like algae and kelp continue to have staying power, we see other oceanic botanicals like sea fennel emerge, seen in Valentia's Sea Fennel Marine Clay Mask or Earth & Halo's Blue Crystalline Serum, which both use sea fennel for its potent antioxidant properties."
Blue Lagoon Iceland's new BL+ The Cream is formulated with the brand's patented BL+ Complex, which harnesses the bioactive and mineral-rich nutrients from the renowned healing waters of the Blue Lagoon geothermal spa in southwestern Iceland. Designed to moisturize the skin, diminish fine lines and improve firmness, BL+ The Cream is part of the company's new BL+ line, which features the BL+ Complex's proprietary blend of microalgae and silica from the Blue Lagoon. The formulation is designed to strengthen the skin barrier, prevent collagen breakdown and promote collagen synthesis. The bioactive ingredients are transported to deeper layers of the epidermis with biomimicry technology.
Meanwhile, Mara continues to reap the benefits of algae's moisturizing and hydrating properties. The brand recently expanded its line of algae-infused skin care with the launch of the Mara Flower Acid Algae Serum. The resurfacing serum features lactic acid, polyhydroxy acid and bioactive acids derived from flowers like daisy and hibiscus to exfoliate the skin and stimulate cell renewal, while proprietary algae, microalgae and aqueous herbs visibly tighten the skin, strengthen the hydrolipidic barrier and retain moisture in the skin. Plus, a splash of French sea water gently renews and refreshes the skin.
Elsewhere, Lipotec offers Telophi, reportedly the first biotechnological active specifically shown to target telocytes, which can be damaged by cortisol release in prolonged periods of stress. The ingredient helps mitigate the damage to maintain the skin architecture and can bolster brands' claims in anti-stress, self-care and well-being.
For the full article, check out Global Cosmetic Industry's January 2023 digital magazine.