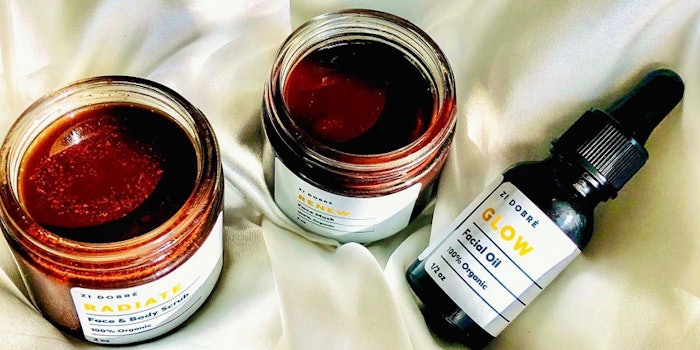 Zi DOBRE
Zi Dobre has produced its namesake Vino Therapy, including a combination of products designed to impact skin from within and at the surface.
Related: Red and White Wine Steeped in Anti-aging Potential
The Zi Dobre Vino Therapy is a roundup of products that entails a powder, scrub, face mask and facial oil to reportedly improve skin health. Grape seeds contain antioxidant-rich polyphenols such as resveratrol to combat free radicals. The grapes are processed using a cold-pressing technique to maintain the polyphenols and microelements.
According to the company, research has shown that grape seed powder and oil manages acne; moisturizes and balances the skin; reduces inflammation; minimizes fine lines and wrinkles; and aids cardiovascular health. As such, it created a line of products and a treatment protocol to improve skin. Internally, the grape seed powder improves the quality and circulation of the blood, providing cells with a combination of microelements. Topical offerings include a powder scrub, mask and facial oil, intended to exfoliate, heal and moisturize skin, respectively.
The Clear Grape Seed Powder offers, as previously noted, a highly concentrated and potent supply of polyphenol-rich nutrients. These compounds help prevent oxidation in the cells and reduce free radicals.
The Radiate Face and Body Scrub use the company's proprietary blend of grapes and honey to provide the skin with a gentle but potent dose of antioxidants. The grape seeds have been reportedly proven to promote the natural production of hyaluronic acid and firm the skin by stimulating proteins designed to radiate skin.
The Renew Face Mask Our Face Mask aims to heal damaged skin by delivering antioxidants, and protecting skin cells from harmful UV rays and other environmental conditions to renew skin.
Finally, the Glow Facial Oil is naturally absorbed by the pores to supply additional antioxidants, probiotics and enzymes. The oil is lightweight and non-comedogenic, making it suitable for most skin types—including sensitive and acne-prone. Additionally, it contains vitamin E, which helps battle free radicals.
Previously: UMC's Orah VITE Touts Greater Antioxidant Power than Tocopherol Acetate