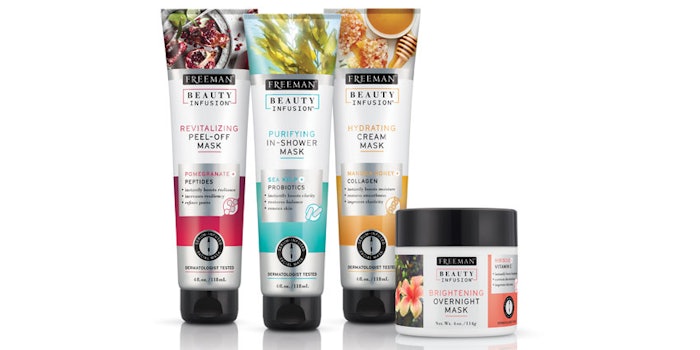 Freeman Beauty announces a complete brand refresh in 2017 with new launches, repackaging and brand expansions.
The beauty brand has repackaged the Feeling Beautiful collection of products in an effort to simplify the shopping experience with upgraded packaging designed to highlight key benefits with clear product call-outs. The new packaging highlights quick solutions, such as "10 minute mask" and "easy-to-peel mask" for quick shopping.
Three new facial masks have been added to the Feeling Beautiful line of products, including:
Feeling Beautiful Manuka Honey & Tea Tree Oil Clay Mask & Cleanser
Feeling Beautiful Green Tea & Orange Blossom Peel-Off Mask
Feeling Beautiful Cucumber & Pink Salt Clay Mask
Additionally, Freeman Beauty has launched Beauty Infusion, a line of serum-infused masks that feature natural ingredients with anti-aging skin care benefits.
The line includes:
HYDRATING Manuka Honey + Collagen, available in a cream mask and sheet mask
BRIGHTENING Hibiscus +  Vitamin C, available in an overnight mask and sheet mask
REVITALIZING Pomegranate + Peptides, available in a peel-off mask and a sheet mask
CLEANSING Charcoal + Probiotics, available in a clay mask and sheet mask
PURIFYING Sea Kelp +Probiotics, available in an in-Shower mask and sheet mask