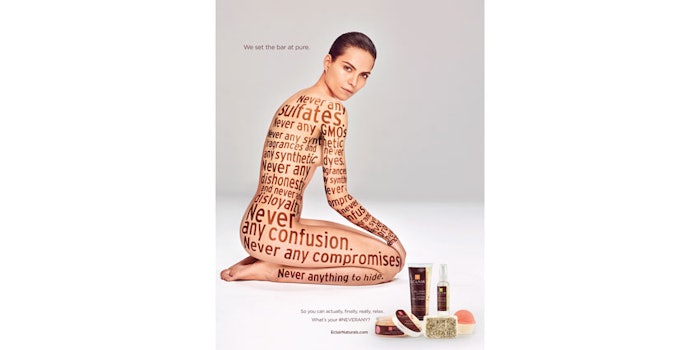 Éclair Naturals is baring it all in its newly launched advertising campaign, NeverAny.
The ad campaign, which aims to "initiate conversation and drive awareness about harmful ingredients that are often found in personal care products," features models that were hand painted with plant-based ink by makeup artist and body painter Joanne Gair. The ad will run in both print, digital, public relations efforts and a brand video (below).
The brand has promised in the past to never use the following during the creation its products: GMO's, parabens, soy, animal derived ingredients, PEGs, petroleum, phenoxyethanol, phthalates, propylene glycol, sodium lauryl/laureth sulfate (SLS), synthetic colors and synthetic fragrances.
Dena Mosti, creative director at MARC USA—the marketing agency that helped create Éclair Naturals' new campaign—stated, "Our creative goal was to be totally transparent about Éclair Naturals products – just as the brand has always believed. That made it an easy story to tell. We saw the 'NeverAny' pledge painted on the models' as a way to declare the brand promise on our sleeves—or should we say, on our skin. We want to create a movement where we dare to bare what matters most to us."