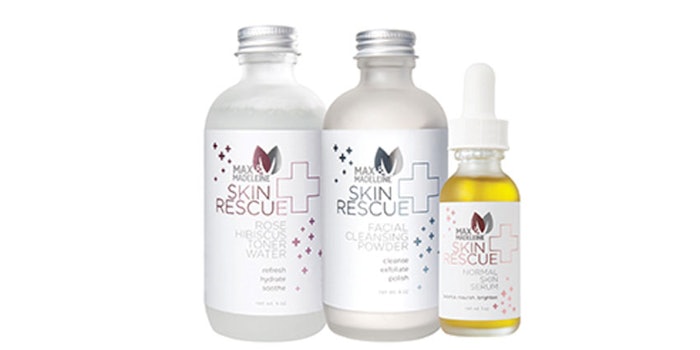 Max & Madeleine, a social selling company, recently announced its new adult skin care line: the Skin Rescue Trio and a new Healing Balm. The Trio includes the Skin Rescue Facial Cleansing Powder, Hibiscus Toner Water and Skin Rescue Facial Serum.
The serum is available in three formulations: normal for nourishing, balancing and brightening the skin; anti-aging to restore, repair and hydrate; and blemish-prone for toning, regulating and protecting the skin. The serums are created with nourishing seeds and oils that detoxify, hydrate and rejuvenate the skin.
The Powder Cleanser buffs and exfoliates dead skin without drying or stripping the skin, while forming a barrier to protect new skin cells. The Toner Water is mildly astringent from the rose water and the Hibiscus revitalizes the skin.
Along with the Trio, Max & Madeleine released a moisturizing Healing Balm designed for soothing, healing and restoring the skin. The salve penetrates deep into the skin with golden calendula, which helps repair dry, cracked and inflamed skin. The balm also includes coconut and sunflower oils to nourish. The balm can be used for anything from reducing the appearance of stretch marks to diminishing diaper rash.