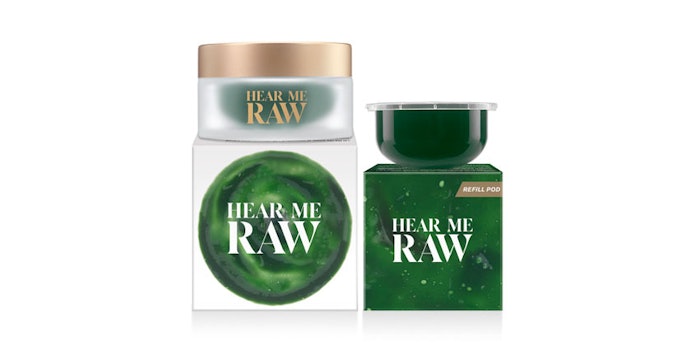 Hear Me Raw is a skin care brand focused on offering consumers clean, all-natural products that follow the "three R's" of sustainability: reduce, reuse and recycle. 
According to Hear Me Raw, its refillable packaging system uses 88% less overall packaging, 90% less plastic and 94% less glass than the typical beauty product.
How it works:
The brand reduces with its multi-purpose capabilities, elimination of plastic discs and spatulas.
Consumers have the ability to reuse packaging with the brand's refill pod system, which allows for the indefinite reuse of the glass jar and lid.
Users can recycle their pods and other packaging components, as well as using the recycled board for its cartons.
Launching in January 2020, the line will comprise The Brightener with Chlorophyll+ and The Detoxifier with Charcoal +. 
The Brightener with Chlorophyll+ is a 10-minute rinse-off mask/daily cleanser. The mask is meant to oxygenate, firm and brighten skin as it accelerates cell turnover. The Detoxifier with Charcoal + is a 15-minute rub-ff mask/daily scrub. The mask aims to remove impurities and excess oil from the skin while exfoliating and removing dead skin cells.