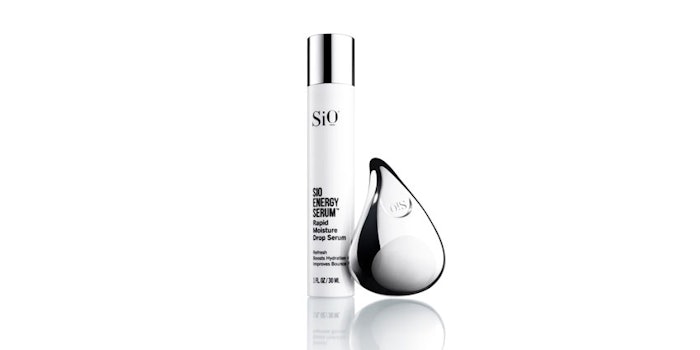 SiO has launched Cryodrop Cold-controlled Magnetic Facelift, its first-ever skin care tool.
The tool reportedly combines the benefits of cryotherapy or "cold therapy" with magnetic technology to visibly lift, tighten and scuplt facial contours.
The SiO Cryodrop is designed to be used with the SiO Energy Serum, which is meant to defend the skin's moisture barrier, reduce waterloss and improve radiance, bounce and suppleness. According to SiO, the use of its tool with the serum "immediately helps sculpt and tighten facial contours, while restoring a healthy vibrancy to skin."
How it works:
The SiO Cryodrop's cooling touch is meant to work in conjunction with cooling actives in the SiO Energy Serum to refresh and visibly rejuvenate the skin. This combination reportedly reduces the appearance of redness, fine lines and wrinkles, as well as minimizes pore size.
The magnet housed within the SiO Cryodrop boasts a lifetime charge and works to push the positive ions from the SiO Energy Serum into the negative ions of the skin for enhanced absorption and longer-lasting results, SiO explained.
The ergonomically molded tool was shaped for optimal facial massage on all areas of the face. Its tear-tapered end and rounded body help to relax facial muscles and release tension. The tool's cold application combined with the massaging action work to sculpt facial contours and diminish puffiness.