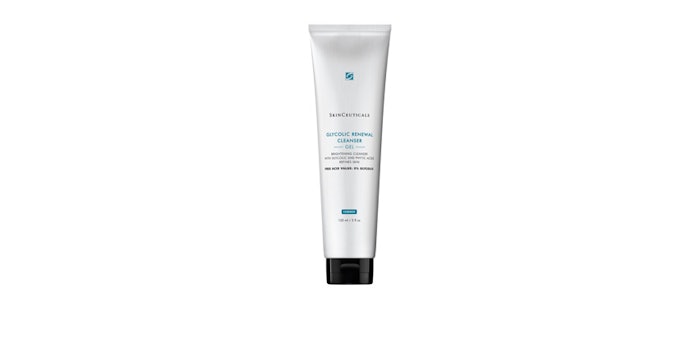 SkinCeuticals has launched its Glycolic Renewal Cleanser as part of the brand's problem-solution cleanser portfolio. 
The dual-acid exfoliating cleanser was formulated to address dullness and texture concerns, SkinCeuticals stated. The soft-foaming gel is meant to exfoliate the skin and deliver a clear and bright complexion while removing oil, dirt, debris and long-wear makeup.
According to SkinCeuticals, Glycolic Renewal Cleanser is formulated with a high concentration of glycolic acid demonstrated by a free acid value of 8%. Derived from sugar cane, this fruit acid dissolves cellular cohesion to release dead and dehydrated cells. The accelerated desquamation stimulates new cell generation, resulting in improved skin texture, tone and a brighter complexion. A dual-acid cleanser, Glycolic Renewal Cleanser also features 1% phytic acid, aloe barbadensis leaf extract and glycerin. 
Clinicals conducted on Glycolic Renewal Cleanser by SkinCeuticals and its independent partners found that after one week of use:
74% agreed skin looked brighter
74% agreed skin looked renewed
72% agreed skin tone looked more even
75% agreed pores on skin looked smaller
75% agreed skin complexion was clearer