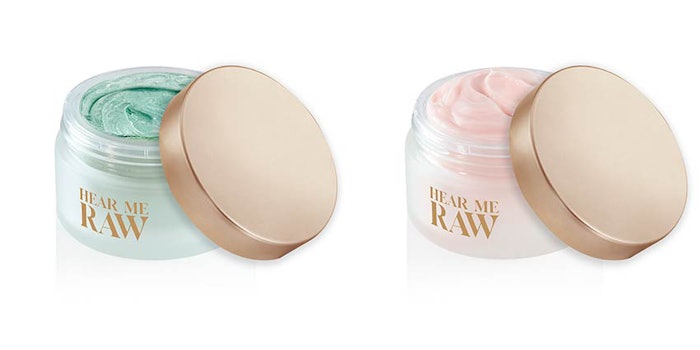 Hear Me Raw has expanded its product range with The Hydrator and The Clarifier.
The Hydrator is a three-in-one day, night and overnight treatment featuring prickly pear for hydration, maqui berry for antioxidant-driven anti-inflammatory activity, watermelon oil to support skin elasticity, and hydrating coconut water and cucumber.
The Clarifier is a two-in-one rub-off mask and spot treatment featuring French green clay, which offers anti-bacterial absorption and removal. The formulation also comprises avocado oil to moisturize, sea kelp to soothe, turmeric for anti-inflammatory activity, neem leaf powder to offer anti-acne support and zinc oxide for acne prevention.
Founder Mike Indursky says:
At Hear Me Raw, we don't believe in that one magical ingredient that is a panacea for all problems. We start off with the key skin need we're trying to address, and research and choose the most powerful, natural ingredient to address that need. Then we choose a panoply of other powerful, natural ingredients to either compound or complement the benefit.
For The Hydrator, the need was keeping skin healthy and hydrated. So, we started with prickly pear, or cactus flower, which uses the cactus succulent root and tissue system to retain moisture because nothing retains water better then cacti. We compounded the benefit with the super fruit maqui berry and Mexican poppy stem cells. and complemented it with natural humectants and hydrators like watermelon oil and coconut water.
For The Clarifier, the need was oil removal and clear complexion so we started with French green clay which is a naturally anti-bacterial absorption and removal agent which cleanses and minimizes the appearance of pores. We compounded the benefit by adding turmeric, neem leaf powder and zinc oxide which have skin-clearing benefits, and complemented them with avocado oil to moisturize and seal kelp and lavender to sooth skin.
Brand details can be found here.