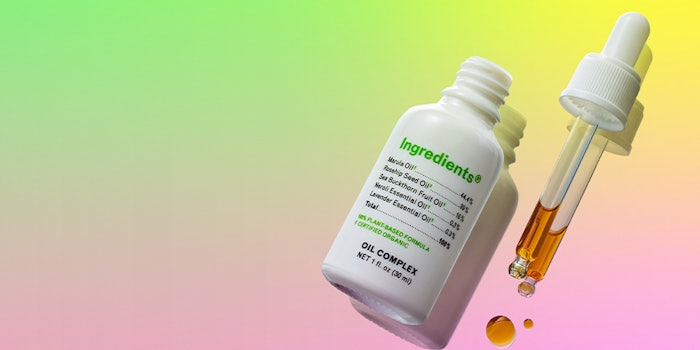 Ingredients, a line of personal care products, has announced its first products. The brand was developed by ​The Art of Shaving co-founders Myriam and Eric Malka. 
Related: Hyalurgie Announces Intensive Serum Collection
Ingredients lists every ingredient, including its exact formulation percentage, on the front of each product.
The brand uses toxin-free essentials formulated with organic, plant-based ingredients in high concentrations and are free from petrochemicals, synthetic preservatives, and water dilution. 
All products contain only essential ingredients such as plant water, essential fatty acids, plant extracts, antioxidants, vitamins and minerals, aminoacids, probiotics and essential oils. 
Ingredients sources plants globally from areas with what it describes as ideal soil and climate conditions and all vendors are audited for their sustainable processes and certifications.
The Ingredients regimen works in harmony with the skin to cleanse, detoxify, repair, boost collagen and elastin production, according to the brand. The line includes three steps:
Step 1: Cleanse and Balance Face Cleanser: ​This is an organic, soap-free foaming Face Cleanser that gently purifies the skin without removing its natural protective oils and respects the skin microbiome.

Step 2: Hydrate and Brighten Face Serum: The concentrated phytonutrient, antioxidant and amino acid-rich serum soothes and deeply hydrates, boosts collagen production and brightens skin.

Step 3: Seal and Protect Oil Complex: ​The organic Oil Complex is rich in omega 3, 6, and 9, phytonutrients, and vitamins from unrefined marula, rosehip seed and seabuckthorn fruit oils to help restore the skin's natural lipid barrier, collagen renewal and restore skin elasticity. Neroli and lavender essential oils are added to soothe and rejuvenate environmentally-stressed skin. 
Eric Malka and Myriam Malka said, "We all have the right to know exactly what we put on and in our bodies. Everyday, the average person comes in to contact with hundreds of harmful chemicals found in personal care products, house hold cleaners, foods and drinks. By limiting our contact with these harmful elements and using more products with only plant-extracted ingredients, we want to empower everyone to reduce toxicity in their daily lives, and lead a natural lifestyle in the pursuit of optimal wellness."