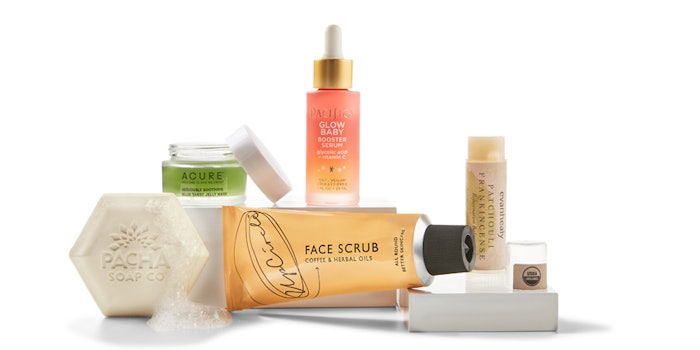 Experts on the Whole Foods Market's trends council have unveiled its annual list of the top five clean beauty trends for the year: Beauty Goes Waterless, Multitasking Balms, Juiced-Up Skin Care, Upcycled Beauty and Stressed Skin, Meet Ramped-Up Remedies.
Related: The State of Beauty: 2021 & Beyond
A recent online survey conducted by The Harris Poll on behalf of Whole Foods Market found that 85% of consumers who simplified their beauty routines over the past year plan to continue their new practices. 
Transparency is also important with 57% of consumers surveyed said they are interested in learning more about what ingredients are in the beauty products they are buying.
1. Beauty Goes Waterless
Waterless beauty checks a number of boxes, including saving shelf space, reducing water usage, minimizing the use of plastic packaging and reducing the amount of packaging needed and the shipping weight.
Expect to see shampoo and conditioner powders or bars and toothpaste tablets that can be beneficial for the environment.
2. Multitasking Balms
All-in-one products are predicted to become a trend, due to the ease of keeping minimal products for numerous usages.
Balms are being re-imagined to do it all like hydrate lips, cheeks and cuticles, plus these products contain ingredients like shea butter, coconut oil and sunflower seed oil. 
3. Juiced-Up Skin Care
Skin care and self-care essentials are being packed with superfoods from celery and mushrooms to blueberries. This can help the skin appear a little brighter and firmer.
4. Upcycled Beauty
Repurposing ingredients in beauty products is an eco-friendly trend on the rise. Products are taking ingredients such as coffee grounds, discarded apricot stones, leftover argan shell and turning them into supportive skin care. 
5. Stressed Skin, Meet Ramped-Up Remedies
Consumers are looking for skin care products to really fight the skin care concerns that come from a year of stress or a year of wearing protective masks. 
Clean beauty remedies are showing up in new formats like masks and serums with soothing ingredients like tea tree oil and witch hazel extract to help. 
Amy Jargo, global beauty buyer at Whole Foods Market, said, "The beauty industry has seen significant consumer shifts this year due to COVID-19, and our trends are a true reflection of these changes. Customers are looking to streamline their beauty routines, while also seeking out brands that align with their values like those that limit their environmental impact with waterless and upcycled products. Beauty Week is the perfect time for customers to try these trending ingredients and products at a great discount."