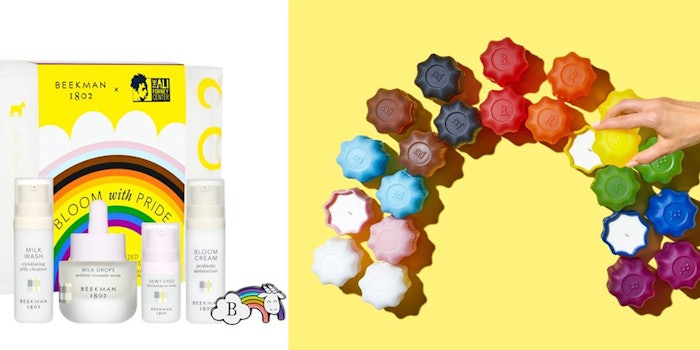 Beekman 1802 is celebrating Pride Month with two limited-edition items, including its Bloom with Pride Skincare Kit, with 100% of profits going to charity, and a set of Rainbow Votive Candles.
Related: [Interview] Beekman 1802 is First Microbiome-certified Brand at Ulta
The Bloom kit, launching June 1, 2021, includes: Bloom Cream Moisturizer, Milk Wash Exfoliating Cleanser, Dewy Eyed Illuminating Serum, Milk Drops Ceramide Serum and a rainbow goat pin.
Beekman is donating 100% of the kit's profits to the Ali Forney Center to support homeless LGBTQ+ youth.
Beekman is also launching Pride Candles, available in a six- or 11-piece collection, on June 12, 2021 at Beekman1802.com.
The six-piece candle collection includes: Red (Heirloom Apple), Orange (Honey Orange Blossom), Yellow (Meyer Lemon Tree), Green (Lily of the Valley), Blue (Violet and Wisteria), and Purple (Fig Leaf).
The 11-piece collections includes the above six, plus the following: Black (Ylang Ylang), Brown (Vanilla Absolute), Pink (Peony Blush), Turquoise (Fresh Air), and White (Lilac Dream).
Beekman 1802 will be hosting a Wedding Marathon on its farm in Sharon Springs, New York, featuring 100 weddings in 24 hours, to celebrate love of all kinds.